I know that summer is only half over but I can safely say that one of my favourite days of the summer so far was spent at Hamilton's first outdoor craft beer festival Because Beer. It was put on by the kind folks from Sonic Unyon, who know how to throw some solid large scale events. They've had lots of experience, especially since they're the ones who started my other favourite yearly MASSIVE Hamilton event; Supercrawl, as well as Seven Sundays; Gage Park's weekly summer concert series. So it was really no surprise that the event was well thought out and executed to meet the needs of all those craft beer drinking enthusiasts.
On this July day the sun was hot, the air was dry and there was the most perfect summer breeze coming off the lake. Beers were flowing from over 25 craft beer micro-brewers and food trucks were serving up some mouth watering grub.
Twenty-five dollars got you into the event. The fee provided you with your own beer sampling mug and four beer tokens to get you going on your beer tasting. One token would get you half a glass of beer from any of the craft brewers (two for a full 1/2 pint). You could restock your token supply by purchasing additional tokens at a dollar a pop.
We set off to sample our first beer of the day from Waterloo brewery. I got the Grapefruit Radler which was so good it ended up also being my second beer of the day too. I'm not one to like beers that are too sweet and fruity but on this hot day the hints of grapefruit were so light and refreshing it totally hit the spot!
I was happy to see The Salted Pig food truck – a truck I'd never sampled before. I got a little snack of Pigs in a Blanket; two deep-fried tortilla shells stuffed with pulled pork creamy horseradish sauce, bbq sauce and green onions. Perrrfect with a bitter beer!
We found a piece of shade by the water and used our Beer Passports to plot out our route for future beer sampling. My one regret is that I didn't get to the Wellington's Farmer's Market Rhubarb Saison before their tap ran dry. Clearly I didn't plot my beer drinking route as well as I'd thought. As the day progressed you would hear a buzz about certain beers and breweries and we'd make our way over to try them out ourselves.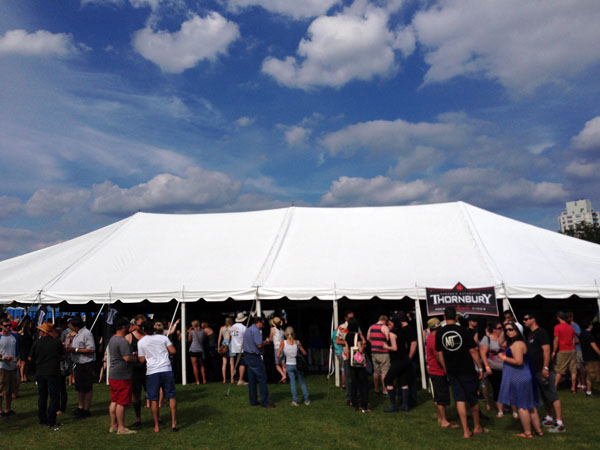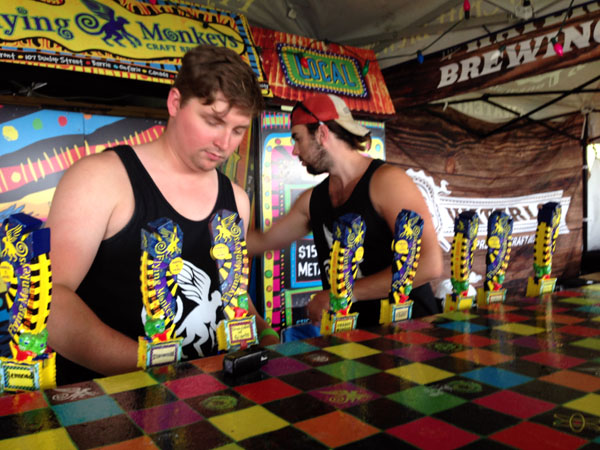 Next up to sample was Flying Monkey's Shoulders of Giants.
As evening was starting to fall we'd visited what felt like over a dozen craft breweries often returning to specific brews that tickled our tastebuds. I loved the Margaret Atwood from Beau's Brewery, and I feel like there was a chocolate stout that I enjoyed somewhere along the way too, was it the Tom Green?
I wanted to sample Garden Brewer's (rooted in Hamilton) Black Pepper Ale but it was sold out.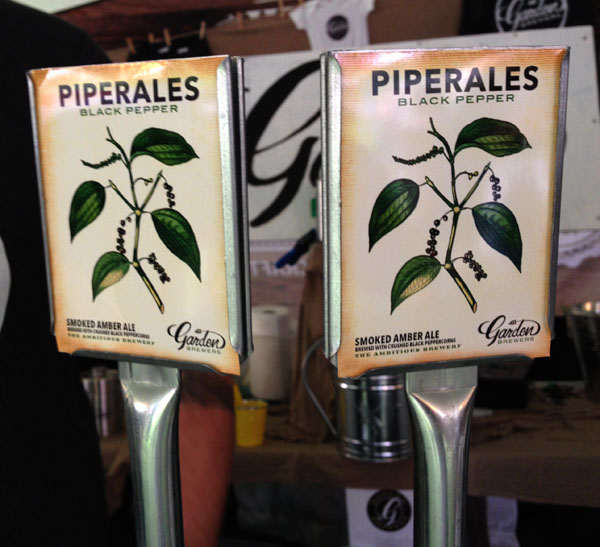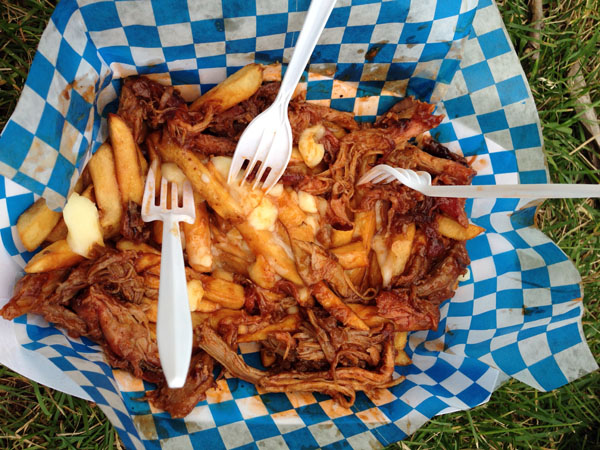 Refuelling with a massive pulled pork poutine from Southern Smoke Truck.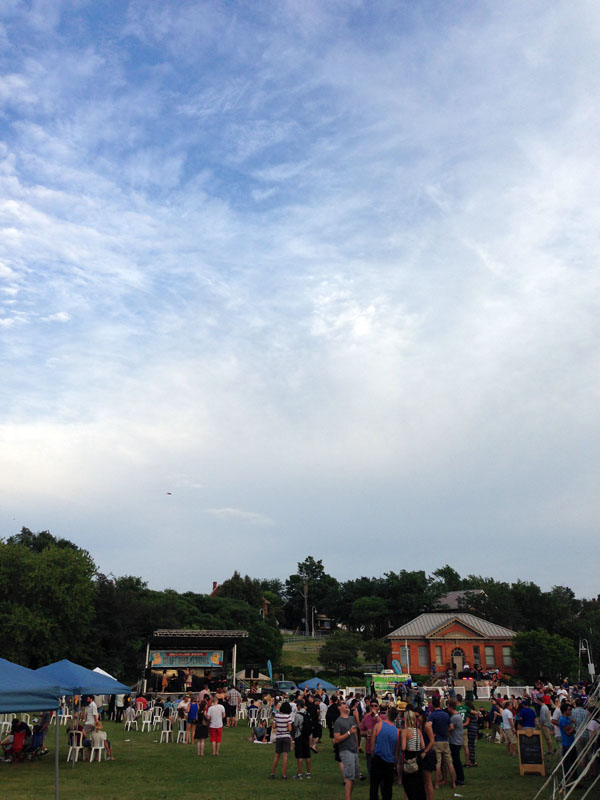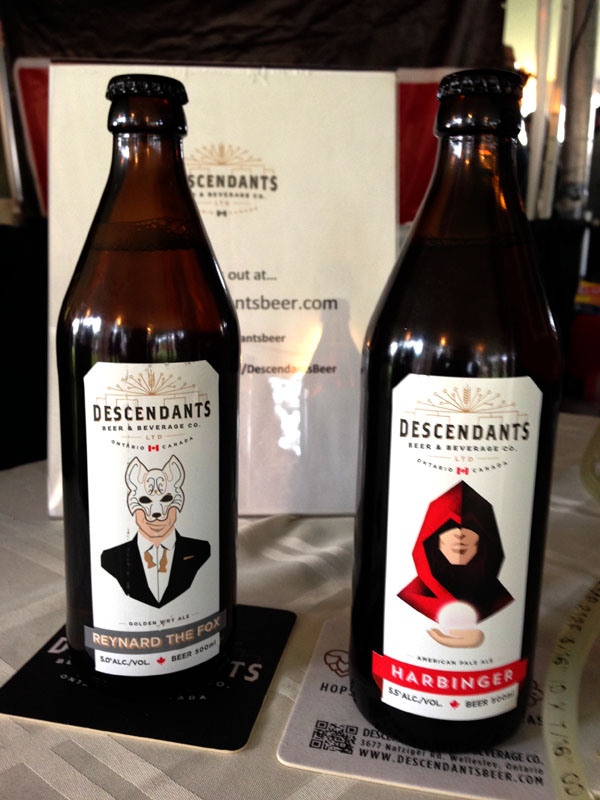 My last beer sample of the day was from Descendants -Reynard the Fox and it just may have been my favourite of the day.
The Dinner Belles hit the stage and the beer festival was starting to come to a close. The sun was starting to set on a perfect blue summer sky, and the beer taps were starting to run dry.
The Because Beer festival in my mind was a huge success. People were civilized, the beer and musical acts were great, there were numerous options for seating and various lookouts to perch at to sip your beers AND the weather was just absolutely perfect.
At 8pm we were gently and promptly herded out of the beer grounds and people dispersed. By 8:20 everyone was gone. The grounds weren't littered with plastic beer cups and garbage, there weren't any fights or brawls, mostly just a lot of merry making craft beer lovers making their way home.
Because Beer is an annual two day event and I can't wait to go again next year!
BUT if you missed out on this year's festival and have a hankering for another this Friday and Saturday is another first for Hamilton's Craft Beer Festival, which will be held at Gage Park. Tickets are $30, which includes five 5oz beer tickets and access to sample. Not to mention that all proceeds of the festival will go to seven Children's Hospital Charities. There'll be live Jazz music at the bandshell and of course food trucks.
AND that's not even the last beer festival of the summer! On August 22nd and 23rd is Hamilton Beer Festival! Another two day beer festival on the roof top of Jackson Square. Oh my goodness! I love you Hamilton!!
*Because Beer, July 11-12, Pier 4, $25 +4 beer tokens & beer sampling mug, @BecauseBeerCA
*Hamilton Craft Beer Festival, August 1-2, Gage Park, $30 +5 beer tickets, all proceeds going to charity, @HamOntBeerFest
*Hamilton Beer Festival, August 22-23, Jackson Square Rooftop, $32.50 +3 beer tokens & beer sampling glass, @HamBeerFestival