"The Gore on King Street," as I've learned, was once what Gore Park was commonly known as by Hamiltonians a long time ago. It sits grandly in the middle of Hamilton's downtown core and has done so for over a century.
I walk by Gore Park every day, and love the fact Hamilton has a park carved out in its heart. When I first moved here I heard from others of its "bad rap," but I have never seen much trouble there anytime I've been by day or night. I wouldn't be a stranger to having spent some time in Gore Park either. I've happily sat on a bench and eaten my sandwich at lunchtime watching the crowds go by. It's a great spot for doing just that, taking a break, people watching, and just letting the day pass.
Gore Park is a lovely downtown park. It's lined with trees, home to an ornate Victorian fountain, and three historical monuments! Not to mention it is a pedestrian haven in what is otherwise known as a car-dominated throughway among the numerous one-ways that cross downtown. You can walk for three blocks through the Gore feeling at ease, away from the busy road, shaded by the trees in summer time and beneath the Christmas lights and snow-covered trees in winter. It always reminds me a little of Europe.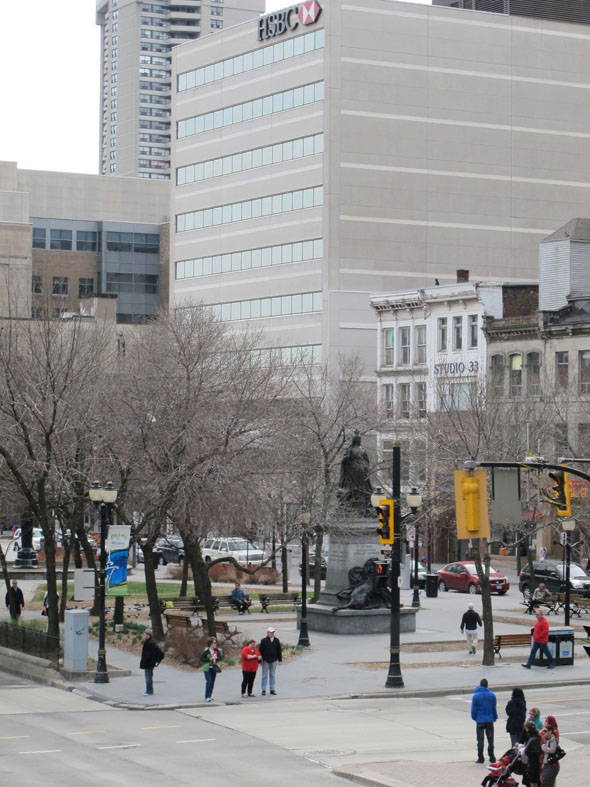 Five years ago I spent a summer living in Berlin, and I adored the downtown neighbourhood pockets with their market squares surrounded by old buildings. Everything seemed to slow down in those public spaces. They were gathering places for weekly organic vegetable fruit markets, Sunday antique, arts and crafts and flea markets, and ice-cream shops and cafés that surrounded the public square with their chairs and tables overlooking the park. That summer I spent a lot of time relaxing in parks that were spattered generously throughout the city. My attraction to Berlin is not strange at all knowing that I chose Hamilton as the place where I want to live. Berlin — like Hamilton — is a city going through transition. It has a very young population of artists and those of the creative kind who have been choosing to remain in the city and to attract like-minded people invested in helping to transform the city into something really quite inspirational.
One thing I like about Gore Park is how old it is and the unique history that it holds. From its early beginnings nearly 200 years ago, The Gore on King Street was an unsightly dirty dumping ground for local and surrounding businesses. It was in such a state of dirty disarray that many proposals were made to remove the park to make room for new building developments. However, due to the consistent public outcry to keep the space a public one, we still have a lovely square in the middle of our city. The history of Gore Park has been a tumultuous one. A park gated and kept under tight lock and key in the 1860s; a massacre of "pesky" starlings and pigeons gunned down by hunters in the 1950s; expansion, and proposed diminishing of the park's size; a clear-cutting of the tree-lined park 1970s; and still, all these years later, there is ongoing planning and talk of what to do with Gore Park.
On a short visit to New York City this past month, I couldn't help but take note of the many old squares in that city too. On those glorious sunny and unusually warm March days, New Yorkers flocked to these sun-soaked patches to enjoy a break from the Manhattan daily grind. I like our public space at Gore Park. It can be our little piece of New York and Europe right here in Hamilton.
This article was printed by the Hamilton Spectator and can also be found here.