One of the things that drew me to Hamilton was the history, and architecture of the city and its buildings.  Walking around downtown you really get the feeling that Hamilton was once a prosperous, and happening place.  I can't deny that a fair number of Hamilton's buildings are vacant or abandoned.  Ghostly shells of their glory days, their owners haplessly leaving their fate to be met with a wrecking ball, (like the recently demolished Century Theatre… sniffle).  But there is a genuine renaissance that's happening.  Not just on James St. north, but on John St. too.  With the recent move of Downtown Bike Hounds to John, and the hopeful renewal of one of the most gorgeous buildings in Hamilton, Treble Hall, I can't help but swoon at the idea that this sense of rejuvenation will start to spread.  I mean I love these old buildings abandoned or not but I'll love'em even more when they're no longer left to rot.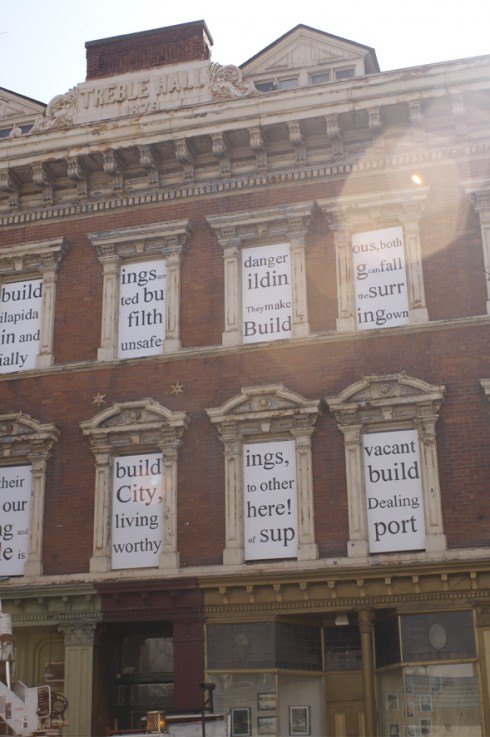 The installation in the Windows of Treble Hall is a quote from the Hamilton Spectator's managing editor Howard Elliott that reads:
"Vacant and dilapidated buildings are dangerous both physically and psychologically. A dilapidated building can fall down, catch fire and attract vermin and filth. They make the surrounding area unsavoury and potentially unsafe. Building owners who don't take adequate care of their building, vacant or otherwise, demonstrate huge disrespect to our city, to other building owners and to all people visiting and living here. Dealing harshly with those responsible is worthy of support and praise."
Image from www.historiarestoration.ca
Image from www.historiarestoration.ca
Treble Hall was purchased by Jeff Feswick of Historia Restoration in 2010. You can read the Spec's article of the purchase here.