Hamilton is host to its very first ever Dusk Dances down at Bayfront Park!
I'd never been to a Dusk Dance before (even though they've been around in Toronto for 20 years) so I had no idea really what to expect. But we figured it would be a fun summer event that we could take Omi to and enjoy some outdoor summer evening happenings. We arrived shortly after 7pm to a fairly large crowd seated on picnic blankets and lawn chairs just in time to catch the tail end of some kid friendly dancing and music. At promptly 7:30 our host for the evening appeared magically with bow tie and top hat explaining how the evening would play out and giving us some simple Dusk Dance etiquette.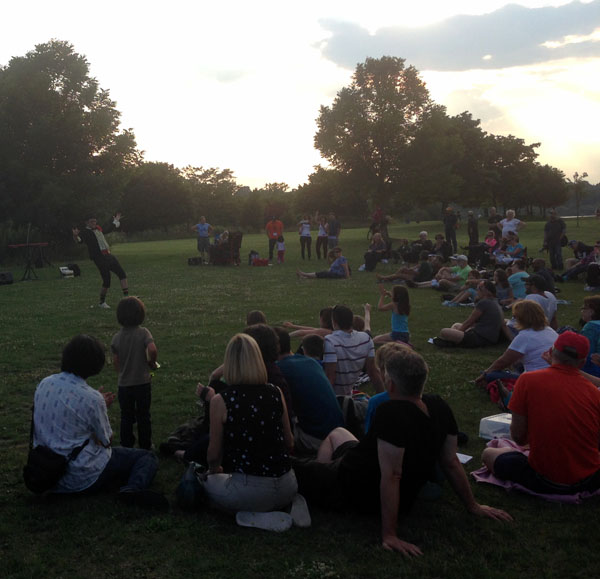 Then with just a moments notice blankets were quickly thrown over arms, lawn chairs folded up, picnics packed up and we began following our host for the night like the pied piper to our first of five Dusk Dance locations throughout Bayfront Park.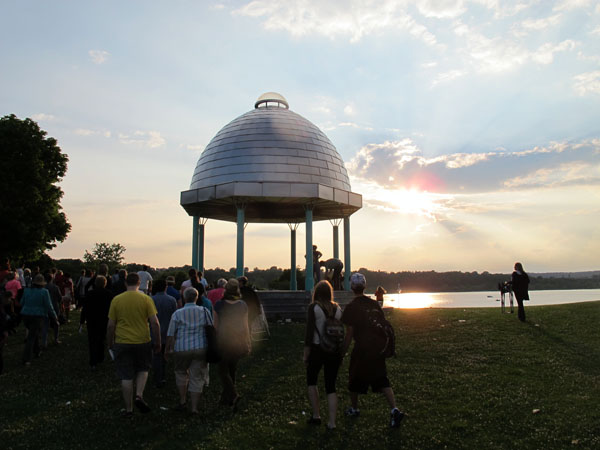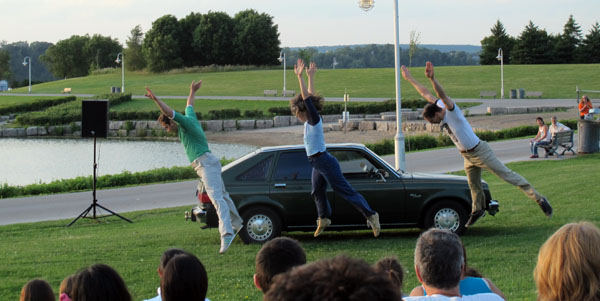 Throwdown Collective radio dj'ed from their little Chevette an 80′s inspired dance number.
My favourite of the night! A powerful and stunning flamenco dance performed by Myriam Allard. Accompanied by flamenco singer Hedi Graja and percussionist Miguel Medina. Myriam's feet were moving so fast I thought she was going to set the stage on fire -just a blur of her beautiful blue shoes!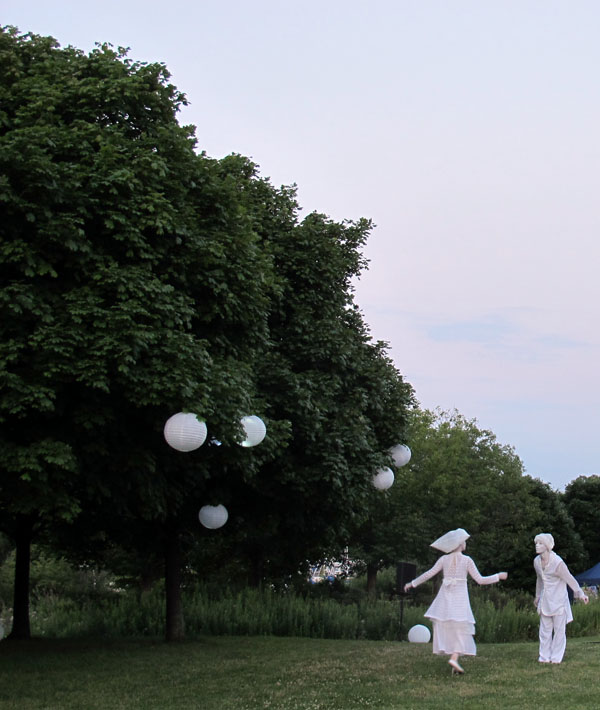 We only made it to four of the five dances. Omi was getting so wriggly and restless. For the fourth dance Unquiet Winds, Omi started yelling at the top of his lungs "What's that!?" mid performance. When heads started turning our way we took that as our cue to start making our way home.
But, oh the night was lovely! I enjoyed seeing people who were at Bayfront just out for a bike ride or going for a summer stroll suddenly stumble upon a large audience and unique dances. I love that this is happening here in Hamilton and I hope it continues on for years to come!
There's still one more night you can catch the seemingly impromptu dances that pop up along the grounds of Bayfront. Tomorrow night is the last night! The evening starts at 6pm with a Lindy Hop Dance class until 6:45. And the Dusk Dance will promptly start at 7:30pm. I recommend being there no later than 7:15, so you get to know the Dusk Dance lowdown and the location of the first dance.
*Dusk Dances, July 31, August 1+2, 6-9pm Bayfront Park, admission is PWYC, @duskdances