Six summers ago when we first moved to Hamilton I attended my first Hamilton Fringe Festival. The show we saw was performed in what was then the vast and vacant second floor of Jackson Square (which McMaster University has now taken over). In the middle of that warehouse sized emptiness black curtains were draped and a stage was set up with seating for a modest audience. The festival was smaller then.
That was six years ago (half of the Fringe Festival's 12 year life) and since then, my has it grown!
Admittedly I have not attended many shows in recent years. What with babies and kids it can be hard to steal away for a series of evenings and afternoons to check out the roster of amazing theatre that the Fringe has to offer.
Last summer I did make it out for one show: Love With Leila, which I adored (see that post here). And this summer there is a line-up of shows I would definitely check-out if I wasn't knee deep into trying to balance life (and survival) with what is now two kids.
She Said Saffron is a one-woman play by Lisa Pijuan-Nomura. There is a never a dull moment with Lisa. She has her finger on the pulse of all things creative in Hamilton and is always doing something: dance, art, theatre, story telling, and making me laugh. Last spring I saw her debut Hamilton performance in her show Small, Sweet and Quiet. It detailed intimate, honest, and sweet moments in her life and her move from Toronto to Hamilton; all accompanied by interludes of mini historic Hamilton narratives depicted through a beautifully artistic shadow puppet show.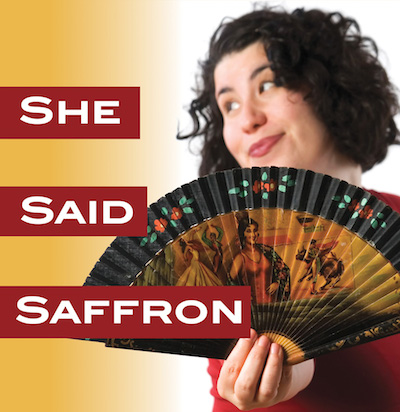 This time around She Said Saffron touches on all my favourite Fs:  Food, Family and First loves. A story told through dance, words and Lisa's life experience. You'll be sure to leave with hearts full, a smile on your face, and a satiating desire to eat paella.
*She Said Saffron at The Players Guild, Th. 8:30, F. 7, Sat 3:30+8:30, $10, @GirlCanCreate
My life is such that it is not every day that I meet a playwright, so when I met Hamilton playwright Radha S. Menon I was in awe. Radha; a woman of smarts, spunk, and imagination has written such plays as: The Washing Machine, Ganga's Ganjawas, Rise of the Prickly Pear, and Rukmini's Gold. She was the finalist for the Woodward/Newman International Playwriting Prize and not to mention she founded the Hamilton production company Red Betty Theatre.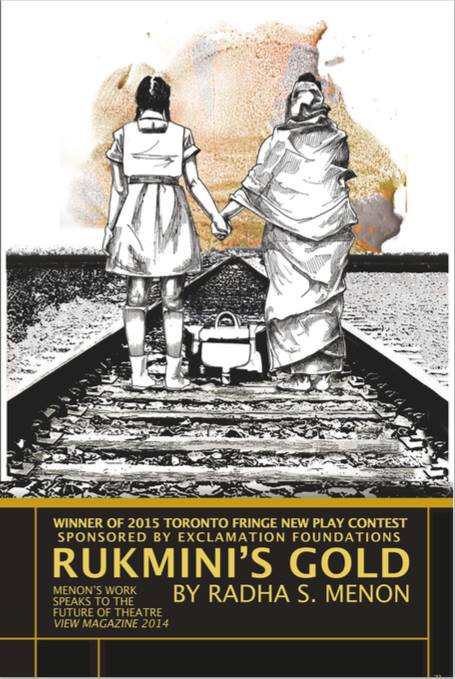 Rukimini's Gold is Radha's exploration of her family's journey from India and around the world:
It was midnight when I stood alone waiting for a night train at a deserted station in North Cornwall.
There was no sign of life anywhere, it was eerie and desolate and I worried that my train may never come. That's when I had a vision of Rukmini, an elderly lady waiting alone in her white sari, clutching nothing but her precious baggage. And I wondered what it would be like to meet oneself in a place like this? Would I recognise myself after fifty or more years?
Rukmini's Gold won the  2015 Toronto Fringe New Play Contest and is a must see for this year's Hamilton Fringe!
*Rukmini's Gold, Mills Hardware, M 7:30, W 6, Sat 2, Sun 6, $10, @RedBettyTheatre
Bottom line is if I were to steal away from the duties of newborn parental duties I would most certainly take an hour or two to attend both of these shows. So proud and happy to have these two amazing women here in Hamilton -congrats on both of your shows!
*Hamilton Fringe Festival, #HamFringe, @HamOntFringe, Facebook