I first met the stunning and totally down-to-earth thrifter blogger fashionista Jentine at the opening of Girl on the Wing, and while trying on capes and designer 80′s sweaters at MODify your closet.
On Christmas Eve while doing some of my traditional last minute shopping on Ottawa Street I stumbled upon Jentine's most recent fashion exposition at her brand new store The Edit!
The store although small, is perfect! Jentine had a great hand-picked winter selection of a vintage hats, shoes, boots, clutches, jackets, and dresses from the couture and fabric print houses of vintage 70′s Paris to 50′s cocktail and party dresses. I picked up a long black 80′s sweater dress with deep pockets and shiny brass buttons -dresses with pockets are the best!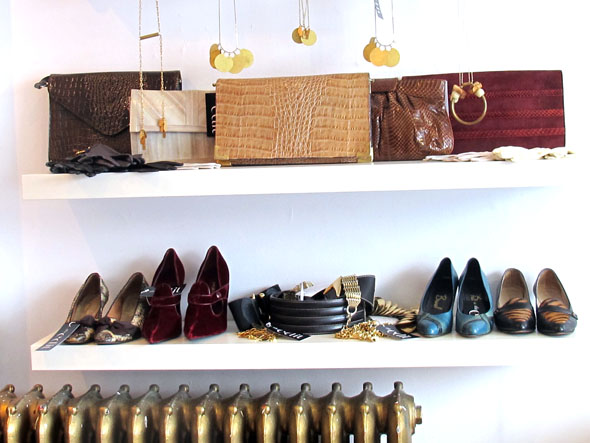 It was fabulous to see the shop, and to chat with Jentine about her new adventure. I departed with a sweet treat of homemade fudge (courtesy of one of Jentine's friends) melting in my mouth and my dress, a present for myself, in tow.
Even though it seems as if spring will never come, I'm sure that it won't be long until the winter sweaters and jackets are just a distant memory, and skirts, jumpsuits, strappy sandals and shorts will be on the racks and shelves at The Edit.
I love to see how Hamilton's storefront fashion, food and retail scene continues to evolve and change. In the four and half years I've been in Hamilton, I've been happy to have witnessed a wave of new young entrepreneurs taking that massive jump to put themselves out there and to pick downtown Hamilton as the place they want to invest in for the long haul. So happy for Jentine and for the continued evolution of Ottawa Street!
Check out Jentine's fashion blog My Edit here, or follow her on twitter @myeditblog.
*The Edit, 205 Ottawa St. North, W-F 12-6, Sat 11-5, @shopTheEdit