This year for Mother's Day we decided to try out brunch at the Aberdeen Tavern. I'd been to the tavern the week before to sample some evening snacks with friends and to check out the new place post its former incarnation as Seven Windows.
I'd never been to Seven Windows, but the atmosphere of the Aberdeen Tavern was just right: cozy, and warm meets contemporary-fresh yet rustic tavern.
We sampled some delicious wild mussels with crostini, fresh hot frites, and Maryland crab cakes, with mango and jalapeño relish -yum! Not to mention their menu sounded mouth watering; like their pan-fried organic halibut, risotto, with brown butter, or their giant meatballs charred & braised in tomato sauce with Quebec cheese curd, or their duck confit spring rolls with caramelized onions! I knew that it definitely wouldn't be long until I'd have to make a return trip to sample a little more.
Well, I didn't make it back for dinner (yet) but instead I was able to just barely squeeze in a reservation for Mother's Day brunch.
We made it to the restaurant for the tail end of the brunch rush and enjoyed a slow, steady and relaxing meal with mimosas to start, coffee and an assorted pastry platter to follow, which consisted of banana bread, walnut scones, and a side of house made preserves and apple butter.
We kept eyeing the brunches coming out of the kitchen and had a tough time deciding just which delicious thing to order for our main course. I ordered the tostadas rancheros; poached egg, guacamole, sour cream, aged cheddar, salsa fresca, black bean, with home fries.
My sister and mom both ordered the short rib hash; braised short rib, poached egg, charred corn, pico de gallo, home fries, and aged cheddar. It comes in a mini-individual little cast iron skillet!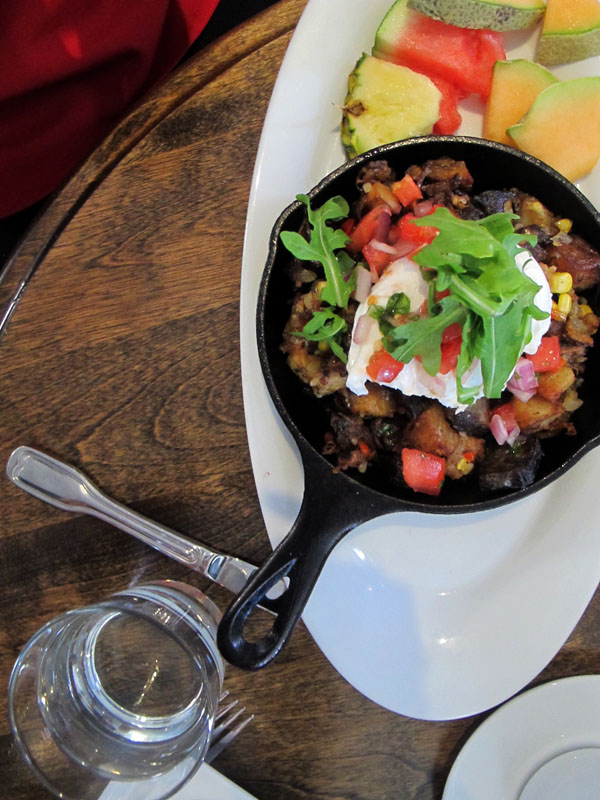 I like how the tavern is so versatile. Weekend brunch, snacks and drinks, dinner or lunch, or just drinks. Did I mention they do fancy mixologist worthy cocktails like the Russian pony; triple citrus vodka, ginger beer, lime, and mint or the derby; bourbon, peach liqueur, lemonade, earl grey tea, and mint!?
I can think of many a special occasions that I'd like to celebrate here, and many more Sunday brunches!
I highly recommend you make a reservation before going to avoid the disappointment of not getting a table.
*Aberdeen Tavern, 432 Aberdeen Ave., 905.523.7707, @AberdeenTavern