The chalk board sign at the front counter of 541 Eatery and Exchange reads:
Eat drink and stay a while. Our delicious food is freshly made and affordably priced for all to enjoy. The proceeds from our eatery fund community programs for kids and our neighbourhood. Thanks for helping make Hamilton a better place!
This past June at 541 Barton Street a new cafe, eatery and exchange opened. It was a long time in the making. And I had been excitedly watching the progress of this project from about a year back when I first saw a video by Bottled Media about the inspirational concept and idea of the whole community operation.
541 Eatery and Exchange is a unique type of cafe that is invested in making a positive impact on its community. Located in the heart of Barton Village it is undoubtedly breathing some fresh air back into the neighbourhood.
Barton is often considered a strip of Hamilton where some of the city's largest pockets of poverty exist. If you took a quick jaunt down Barton you might notice some abandoned buildings fitted in among the spattering of notable Hamilton fixtures such as the Trocadero Restaurant -open for 70 years, Karolina's Polish Restaurant -just like the way your Polish grandma used to cook, Duartes Portuguese Supermarket and Deli, the Vagueira Bakery and Pastry Cafe, and Starpolskie's Deli. Now when you're down on Barton you'll also see the fresh-faced, hip, and contemporary cafe at 541.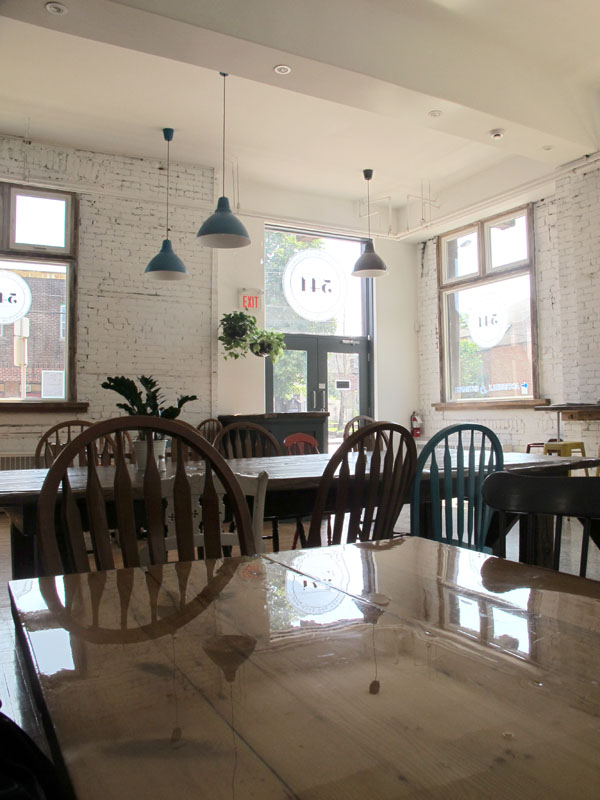 It has a glossy polished feel that is open, airy, and welcoming. I loved that they maintained many aspects of the original features of the building like the exposed brick walls, lofty high ceilings and numerous sunny large wooden framed windows.
When we walked in a family was sitting having some treats and playing one of the many board games housed on the shelves at 541. I spotted a small children's play area at the front of the cafe and thought that it'd would be a great walking destination where I could feasibly bring Omi to stop in for a treat, and to escape from the summer heat. A place with a family friendly vibe is definitely something I pay attention to when on the hunt for new hangouts these days especially now that I have an active little toddler to contend with.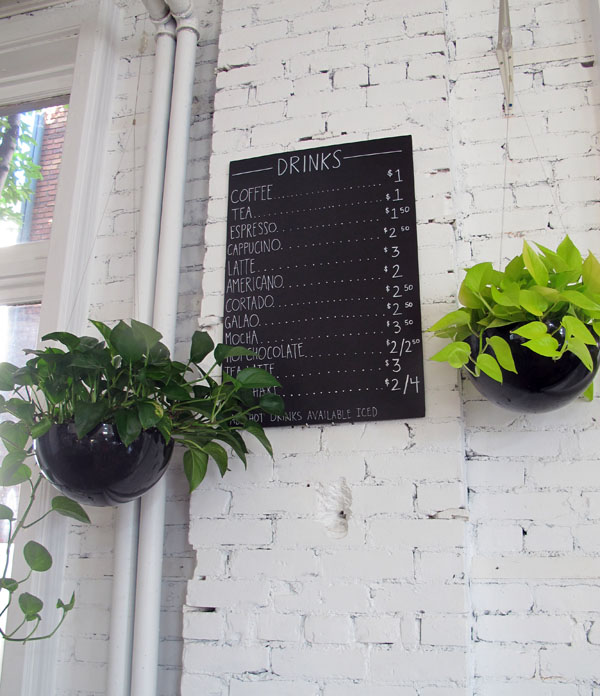 Besides good coffee, great food, and breezy atmosphere, one of the best things about 541 is how accessible it is to everyone (especially in their pricing). We ordered a lemonade, latte, coffee, banana bread and a scone all for under $10!
With those kind of prices I didn't have a problem buying a handful of buttons from the button bank, which is just about the simplest and smartest charitable idea I've seen. The way it works is you can buy a button at a dollar a piece, which then in turn can be used to help out customers that may need a little extra coinage to buy a hearty and healthy meal or small bite to eat. 1 button=$1 and can be used as cash at 541. The button jar that customers could take from to pay for food was nearly full to the brim, which means everyone has the ability to afford and enjoy 541! So even if a $3 latte seems out of reach, you can use a button or two to get a coffee and a healthy home-cooked lunch or dinner.
It makes me feel happy to see that you can have a place that is beautiful, stylish, and whole heartily committed to giving back and empowering its community. It is a place that believes that everyone deserves a nice place to hang out and good food to eat.
Congrats to 541 for breaking down many of the barriers that can come with elite cafes and coffee shops -so great to have a place like this in Hamilton!
*541 Eatery & Exchange, 541 Barton St. East, @541Barton, M-Sat 7-7, Sun 3-7