A short two weeks ago The Pinecone Coffee Co. opened its doors on John Street South.
There was already the typical #HamOnt social media frenzy and excitement that usually happens when something new and cool is anticipated to open up shop in the city.
On day one of Pinecone Coffee's opening it was welcomed to Hamilton with loving and open arms; accompanied by a series of beautifully captured cafe photos via local Hamiltonian Instagram feeds.
During one of the multiple visits I've recently had to the cafe, I got to chatting with the owner about their newest adventure in coffee.
Despite the coffee/cafe revolution that has recently taken over Hamilton, (which over the past six years has seen more cafes opening than I can count on two hands) Pinecone Coffee has its own unique aesthetic that owner Denise describes as distinctly west coast. It's airy, light and fresh with honey coloured wood floors, and beautifully repurposed lath boards for their counter; all of which Denise and her business partner/brother Rick collaboratively designed and put together during their four months of renovations.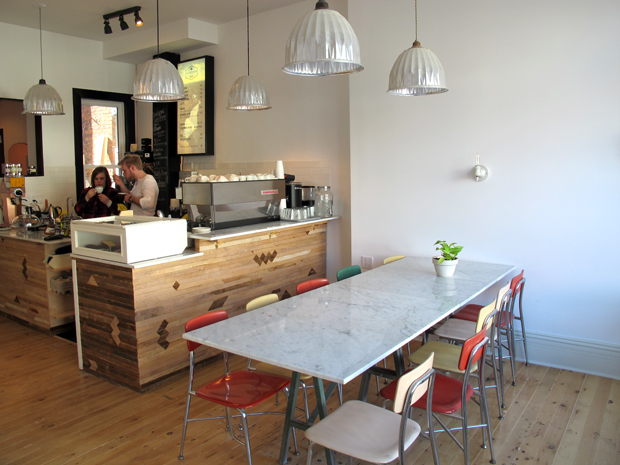 Owner Denise and Pinecone barista taking a "coffee break" before the place fills again.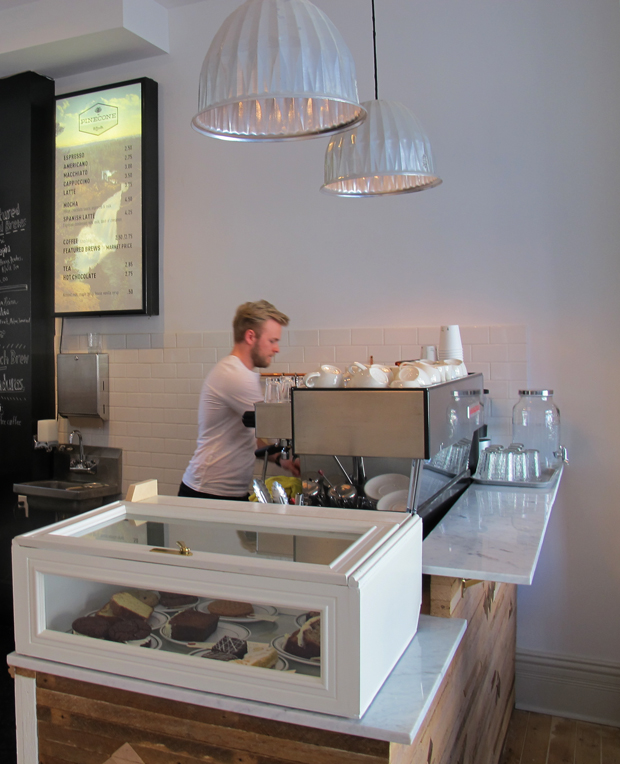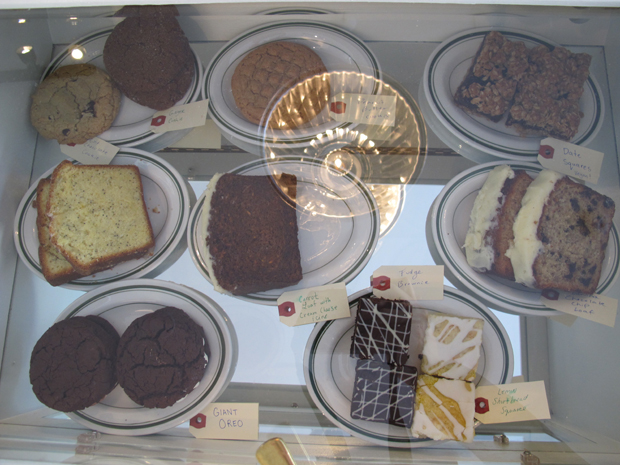 Sweet treats from local Cake and Loaf and De La Terre Bakeries. These items are changed up regularly. Just the other day I tried a giant strawberry-cream-filled Oreo cookie.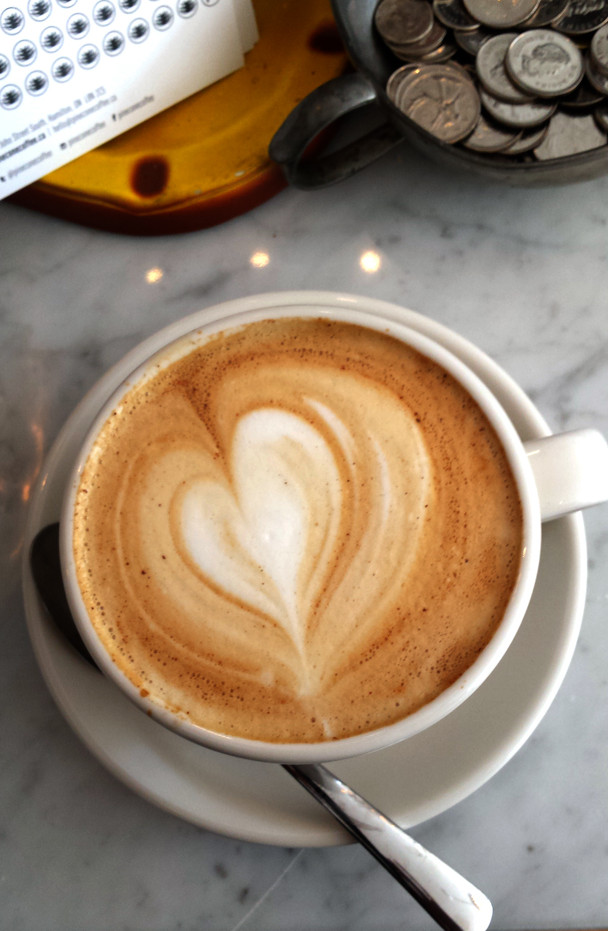 My first Spanish Latte: espresso, condensed milk, milk, and cinnamon -beautiful and not too crazy sugary sweet!
In addition to espresso coffees done right on their La Marzocco Linea espresso machine, they also have filter coffee brewed fresh by the cup on an Aeropress using Phil & Sebastian, and 49th Parallel coffee beans.
Aeropress brewers and filters, Porlex grinders, Hario Range servers and fresh beans are kept in store for the purchase of gifts or for your own home coffee consumption. 
Recently added to their menu is a delicious and healthy breakfast of muesli and hot steamed milk to eat in house or to take on the go. The menu will continue to expand over time to include lunches as well -can't wait!
And before I forget, for all you tea drinkers, Pinecone carries Detour blend teas for your tea sipping pleasure.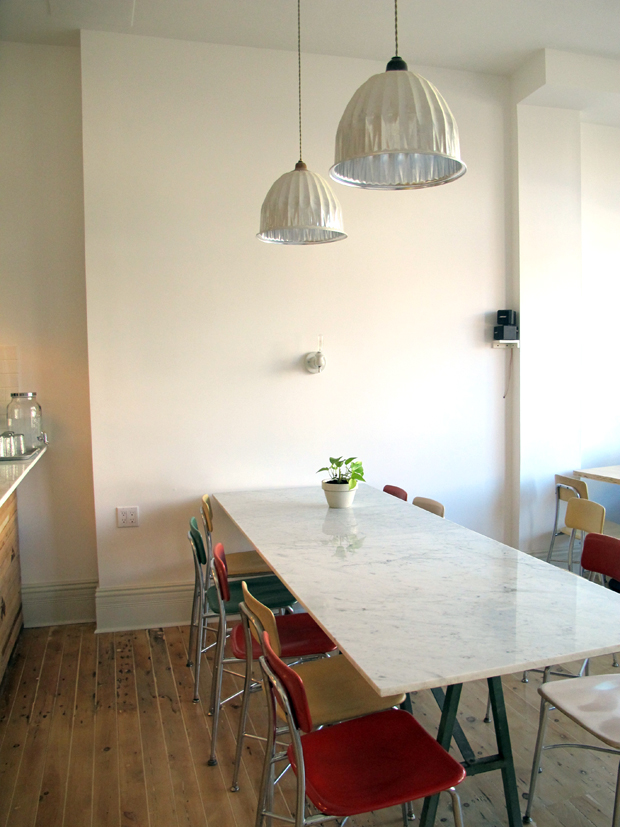 This photo above was taken on the odd occasion the table was empty. It is frequently filled with kids, families, neighbouring business owners, people walking by and largely by Hamilton coffee enthusiasts.
Strollers and wagons are often parked out front with kids saddling up to the tables sipping warm steamed milk and nibbling a little treat, while we all sit and stop for a little break; watching the city whirl by the large front cafe windows.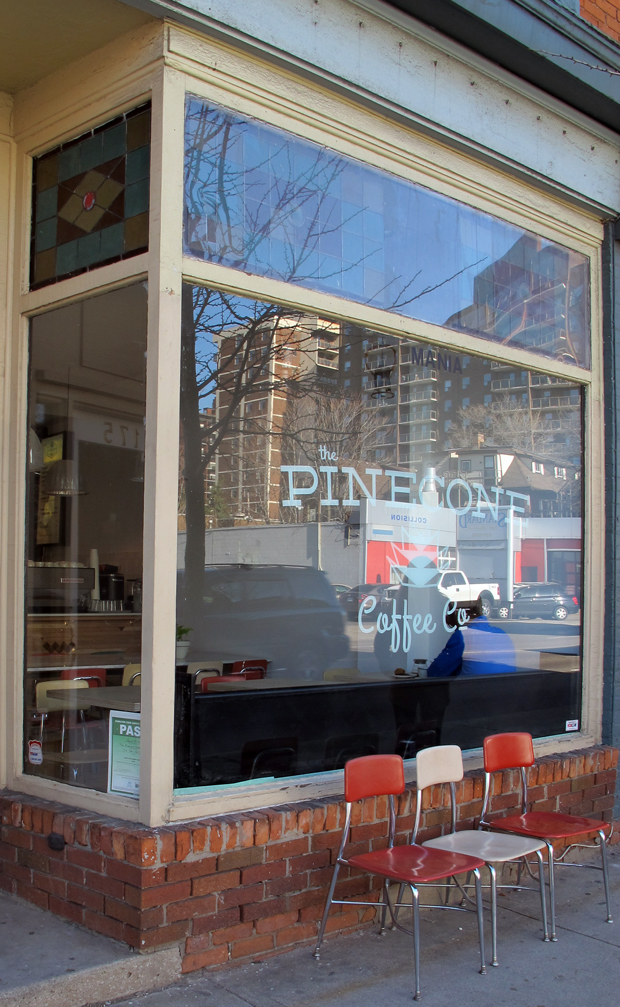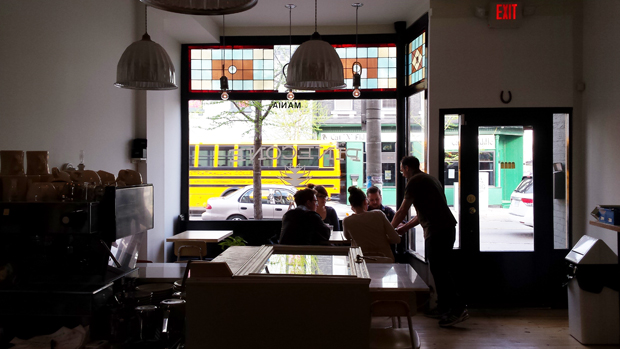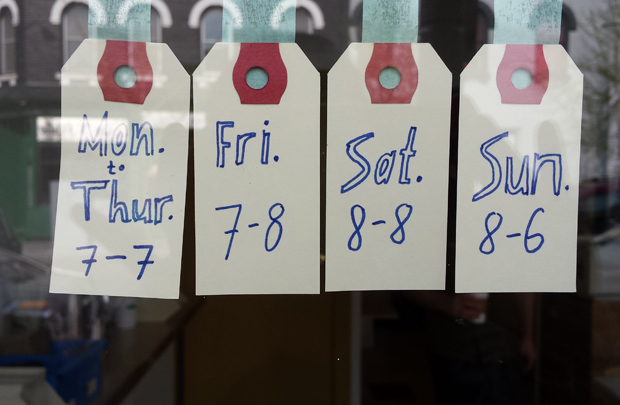 After only being open for two weeks and they've already extended their hours to accommodate for summer time evening hot or cold coffee demands.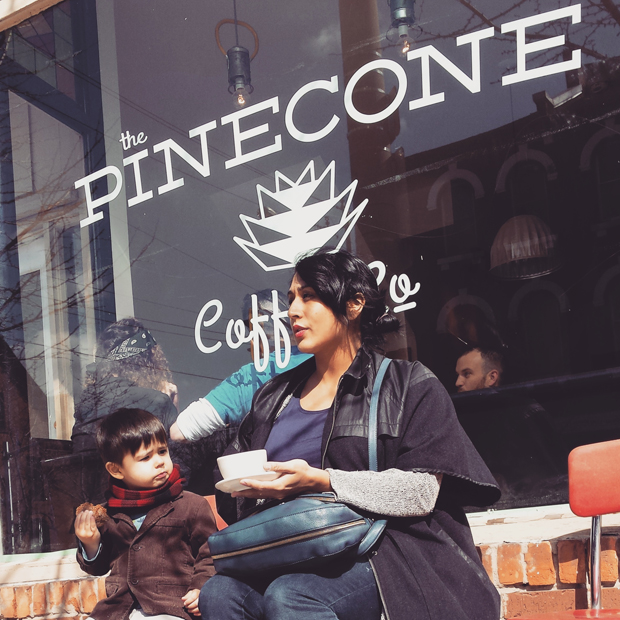 It was not surprising that the first time we checked out Pinecone (day three of opening) the place was packed with sitting room only out front; coincidently fitting perfectly with the warming days of the oncoming spring.
So happy about this coffee shop. It's a neighbourhood cafe that fills a much needed missing gap in the Corktown area. Nearly every person that came in declared the same feeling of coffee elation.
John South you're a coming along very nicely!! Congrats on your opening Pinecone -so happy you're in the neighbourhood!
*Pinecone Coffee Co. 175 John Street South, @PineconeCoffee