Admittedly I am no expert when it comes to fried chicken and waffles. However, I have tried the fried chicken and triple decker buttermilk waffle sandwich from the Dirty South food truck -oh my goodness! And I've now officially gone to Staxx Chicken & Waffle House twice to sample how they do their waffles and chicken.
When we moved to Hamilton, I remember having gone to a Korean restaurant that was where Staxx is now. The food was meh and it was dark and forgettable. Well, the interior of Staxx isn't much to write home about but it's clean, near my house and the first of its kind (as far as I knew) in Hamilton.
The first time I went to Staxx was just a few weeks after they'd opened. The tables were full, which is always a good sign, and the fried chicken that was coming out of the kitchen was looking crispy and mouth watering.
I went with a friend, and we knew that although they also serve burgers, pulled pork sandwiches and other edibles, we came for the chicken and waffles. So that is what we ordered.
I'm not sure about you, but I've always grown up thinking that waffles should be crispy on the outside yet still fluffy on the inside. This may strangely be based on my experience with the classic Eggo Waffle but I know that I've also had Belgian waffles that have been crisp too. So when the order came up and we noticed that the waffles were kinda floppy and still gooey on the inside, we sent back and a new order was promptly brought out (with unfortunately not much improvement). The fried chicken was great but we were a little disappointed with our realization that perhaps waffles aren't always crispy?
I wasn't willing to give up on the place on just the one visit, so with some other friends I decided to give it another try. With an order of chocolate milk all around to start we prepped ourselves for the fried chicken and waffles; this go was supreme! Waffles -crispy(er), and fried chicken delicious. I also learned (from observation of a pro) the perfect eating combo of a piece of fried chicken carefully accompanied by waffle, dipped in maple syrup and with a touch of hot sauce for a most deliciously perfect ratio of savoury, sweet and spicy. Our only complaint this time around was that the meals were served on round baking tins with high curved edges that make for difficult cutting and eating of perfect previously said combo of savoury, sweet and spicy morsels of chicken and waffle. We did make plans to come back again to try some of the other things on their menu like their hamburger with fried egg or deep fried onions, or their philly cheese steak and waffles.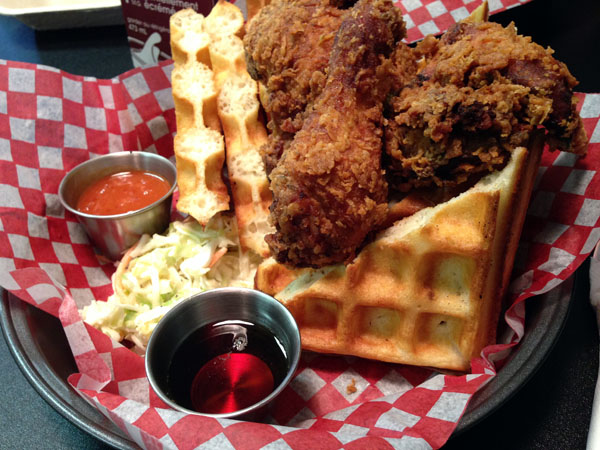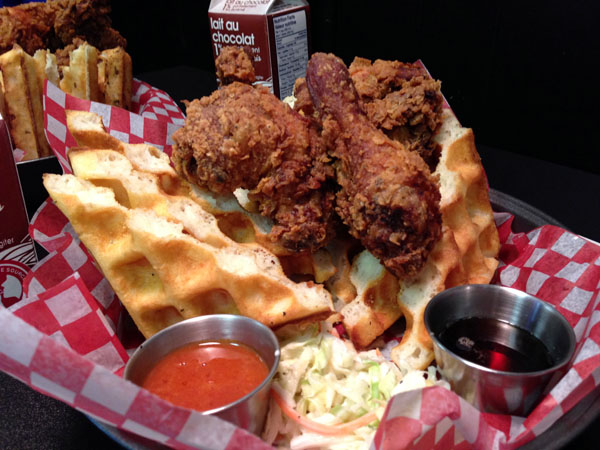 Before I can legitimately say that Staxx has the best (bricks and mortar) fried chicken in Hamilton, I've got to try Tavern on George's take on it, which I recently read about on Chanry Thach's food blog The Hungry Gnome. A hidden gem that I'm dying to try! Check out Chanry's post about it here.
*Staxx Burger Chicken Waffle House, 236 King St. E, 289.396.4162, @staxxhamilton