What is up with all the downtown Hamilton schools that have been sold off, boarded up, and demolished?  It seems like there are more schools sold and closed than I can count on my two hands.  There's the Stinson Street School, coincidently bought and recently redeveloped by Harry Stinson, who by the way developed the infamous Candy Factory Lofts, which spearheaded the urban revitalization on Queen west in Toronto way back in 1993.  For the most part I'm happy to see when gorgeous buildings in Hamilton, like the Stinson School, remain intact and are simply refurbished for their new life as lofty living spaces.
Of the downtown Hamilton schools that have closed there's Scott Park, 220 Dundurn, Allenby, Tweedsmuir, Robert Land, Gibson,  and Fairfield schools, all of which were sold by the public board since amalgamation in 1998 (and those are just the ones downtown!).  I know that this partially reflects the declining enrollment that many school boards across Ontario are seeing, but I also think it has something to say about the expansion of new subdivision continued urban sprawl, and flight to the suburbs, which are now all part of the larger amalgamated Hamilton.
I've had the pleasure of visiting a few of these schools after their sale from the board, while they've been in transition between owners.
One rainy day I visited the old Gibson school.  It was a little eerie walking into all the empty classrooms, many of which had little reminders and remnants of its former life as a full on school.
I love the old school buildings in Hamilton.  I have a sentimental feeling associated with them, mostly because they are beautiful but also because I feel like they just don't make buildings as grand anymore.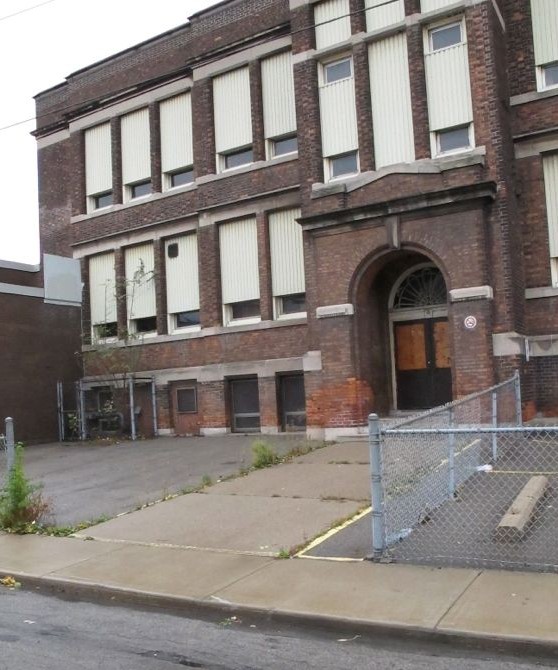 It can be really sad to see such beautiful old schools emptied, abandoned and boarded up.  I really hope that this school gets put to good use, and some life gets put back into it.  Smashed and boarded up windows really does nothing for the moral of a neighbourhood and city.
*Old Gibson School, 601 Barton St. east, Hamilton