On a lovely summer day, a short while ago, Kristin Archer from I Heart Hamilton and I had a rendez vous meet up for our second lunch at Appleberry Café.  Owner Opal Osiol was so sweet and cooked up an enormous amount of menu samplers for us to try out -so damn good!  If you're in the King East neighbourhood, I would recommend stopping in for lunch for the BBQ chicken, mashed potatoes, fried dumpling, or butter pan-fried salmon (those were my favs).  Yum!  You can also read about our first visit to Appleberry Café from I Heart Hamilton here and from me here.
However, I detract from the purpose of this particular post and meet up with Kristin…
We wanted to check out two stores on Cannon Street -the recently opened O's Clothes as well as the bright and fresh Relish Vintage.
O's Clothes is a sassy little addition to the corner of Cannon just a tickle east of James Street North.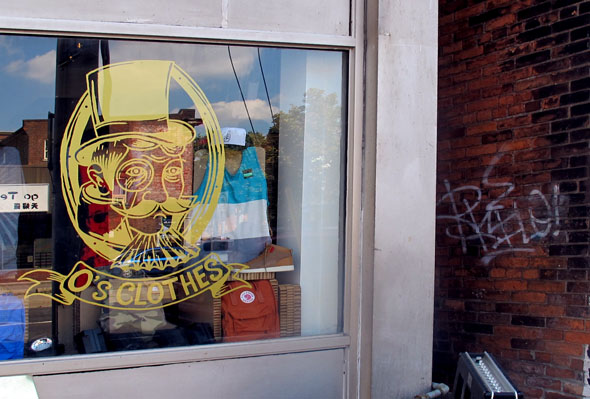 We stopped in to chat with owner Oliver Knutton about his new business.  It was easy to strike up a conversation with Oliver -he puts himself out there and was happy to share his stories and thoughts with Kristin and I.
When considering what type of store to open up in Hamilton his first thoughts were to open a record store but knowing Hamilton already has its fair share (Dr. Disc, Cheapies, Schizophrenic Records, Books & Beats etc.) he moved on to examine what that missing "je ne sais quoi" might be.  Noting a gap in urban men's street wear in Hamilton, Oliver told us he decided the time was right to take the plunge (like many other young entrepreneurs in the city) and open up shop.
I follow O's Clothes on Twitter (@OsclothesK) and love the instagram feed of photos he posts of his customers and their purchases.  I asked Oliver if for the most part it's his friends that come by to shop.  He agreed that when the shop first opened just about two months ago his friends did make up a large portion of his clientelle but he soon found young guys from the neighbourhood -high school kids were dropping in picking up T-shirts, shoes and the like adding to his client base.
You can tell the stores got an appeal for young guys.  I loved how when approaching the store the "sandwich board" (which is actually a speaker) was pumping out some awesome hiphop -for sure a nice pocket scene I haven't seen the likes of in Hamilton.  In my younger days in search of something of this sort I'd have to have trekked it in to Toronto, to stores like Uncle Otis, Noise or Get Outside. Well no more… Hamilton holds its own!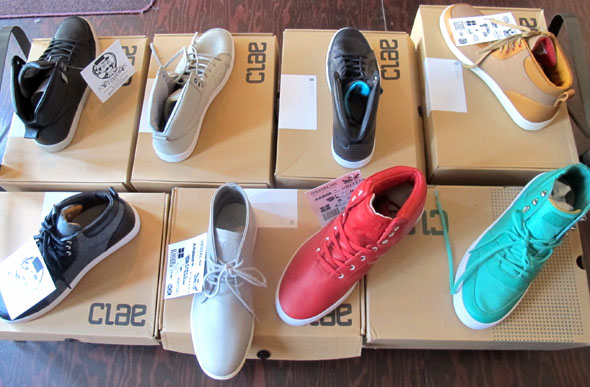 Oliver mentioned that after a fashion feature in The Spec titled The Shopper and as word of his store spreads he's had visits from folks from all over the city and of all ages.  Oliver told us of two recent sales to an elderly man (65+) who picked up a pair of funky-swish sunglasses because they reminded him of a pair of glasses he used to have in his youth.  Another senior aged woman came by and picked up a gorgeous colourful Fjällräven backpack for her travels. So I guess it's safe to say that O's Clothes with their quality goods and apparel has got an appeal to not just the young folk but men and women alike both young and old.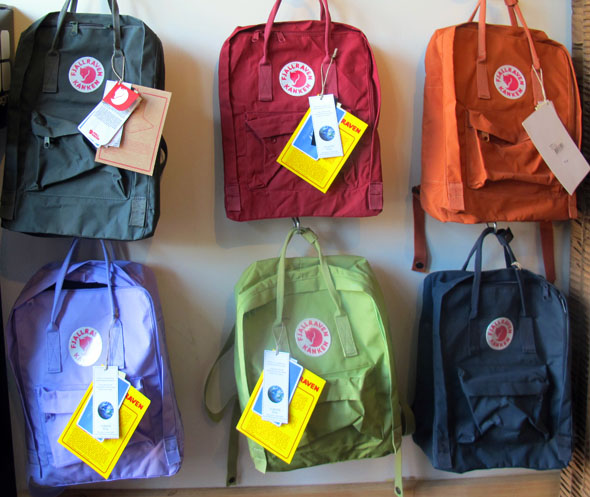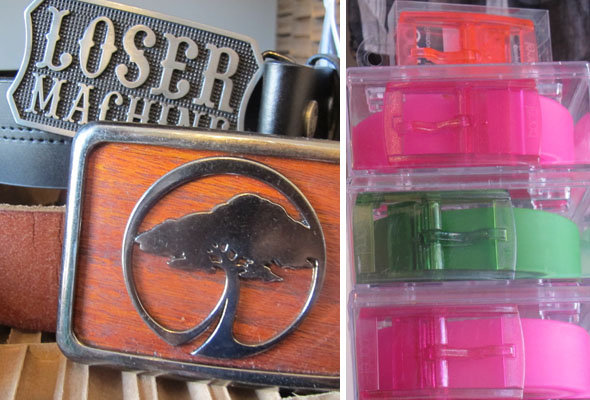 Colourful vegan friendly Borel belts to the right of the photo also come in dark green, grey, white and brown. I ask you -who else in the city carries vegan belts?

Oliver said that he's making a special effort to carry local artist's and designs in his shop.  Top left Kristin holds up a beautifully printed scarf by Hamilton local Rebecca Duyzer (she had a little vintage U-haul store at the August Art Crawl and also has an Etsy store you can check out here).  O's Clothes also carries T-shirts designed and printed by Dave O'Connor like the centre image of the red Pizza Wizard T-shirt.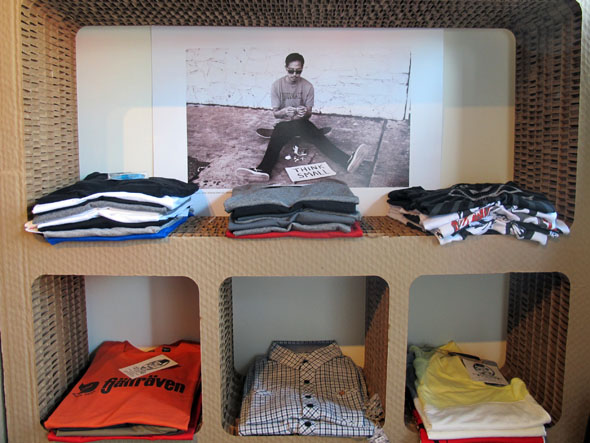 Unique to Oliver's store, besides the brands and clothes he carries, are his custom made corrugated cardboard shelves that he designed (take note the next time you're by the shop).  He says people often ask him about the shelves to see if they can get ahold of some -not only because they look super cool but also because they're the perfect fit for storing a nice collection of vinyl.
Oliver's store, his personality and open friendliness was all round awesome.  As Kristin and I checked out the goods friendly faces were popping in and saying their hello's to Oliver.  In just a few short months of being open O's Clothes already seems like a pretty solid neighbourhood fixture.
Had a great afternoon with Kristin from I Heart Hamilton chatting with Oliver.  Kristin looks amazing in those sunglasses doesn't she? Looking forward to doing another meet up with I Heart Hamilton again -so nice to have a partner in blogging from time to time.
Don't forget to check out I Heart Hamilton's Post on O's Clothes and Relish Vintage here!
*O's Clothes,  8 Cannon St. East, 905.518.1455 , W-F 11-7, S 12-6, S 12-5, follow O's Clothes on twitter @OsclothesK