This is the second year that we have been able to harvest the rhubarb from our relatively young backyard rhubarb plant.
The stalks were hearty and we were able to take from it several bunches from late May until the end of June.
To keep up with this seemingly non-stop supply of rhubarb I needed to find an easy recipe to start using it up -and fast!
On Pinterest one day I came across this quick easy-to-make recipe from a food blog called Feed Me Phoebe.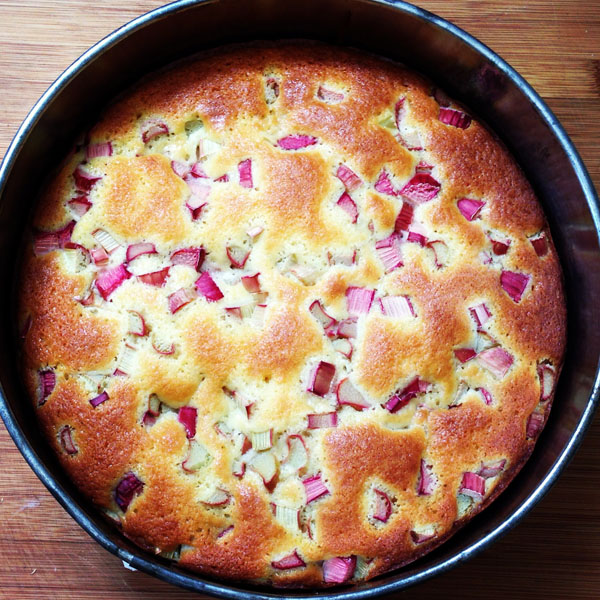 Rhubarb Yogurt Cake (recipe from Feed Me Phoebe)
Ingredients
1 cup plain full-fat yogurt, well-stirred
1cup granulated sugar
1 large pinch sea salt
½ teaspoon almond extract
½ cup vegetable oil
2 large eggs
1 ½ cups all-purpose flour
1 ½ teaspoons baking powder
1 teaspoon baking soda
1 cup rhubarb, chopped into ½-inch pieces
Instructions
Preheat the oven to 350F. Lightly oil a 10-inch round spring-form cake pan and line the bottom with parchment paper.
In a large bowl whisk the yogurt, sugar, salt, and almond extract until smooth. Pour the oil into the batter slowly, whisking until smooth. Add the eggs and whisk the batter again until smooth.
Sift together the flour, baking powder, and baking soda in a small bowl and fold it into the wet batter until just combined. Pour the batter into the cake pan and scatter the chopped rhubarb on top.
Bake the cake for about 45 minutes, or until a cake tester comes out clean and the top springs back lightly when touched. Allow the cake to cool for 10 minutes, then lift it out with the parchment paper and allow it to cool on a wire rack.
We've made two rhubarb yogurt cakes so far this season and they never last in the house for longer than a day or two. We're constantly sneaking in pieces pre-breakfast, throughout our numerous coffee and tea time breaks or whenever we happen to be just passing by the kitchen.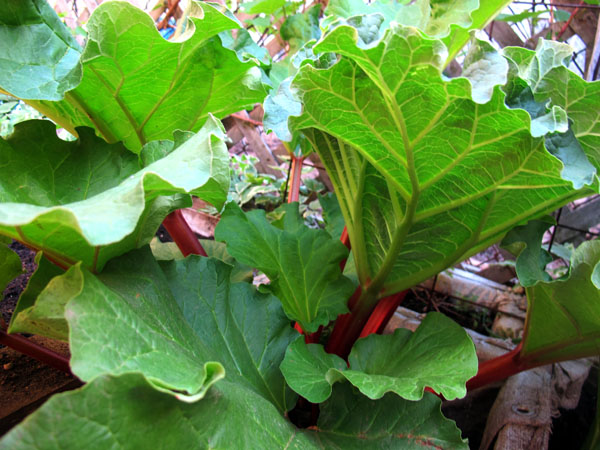 Since Steve is the keeper of our backyard garden, he did all the rhubarb stalk collecting. Especially since he'd read up on how you're not supposed to just go in there and chop down the stalks with a knife or scissors like I would've done. Instead he gracefully twisted and snapped them off before passing over a large and heavy bunch to me.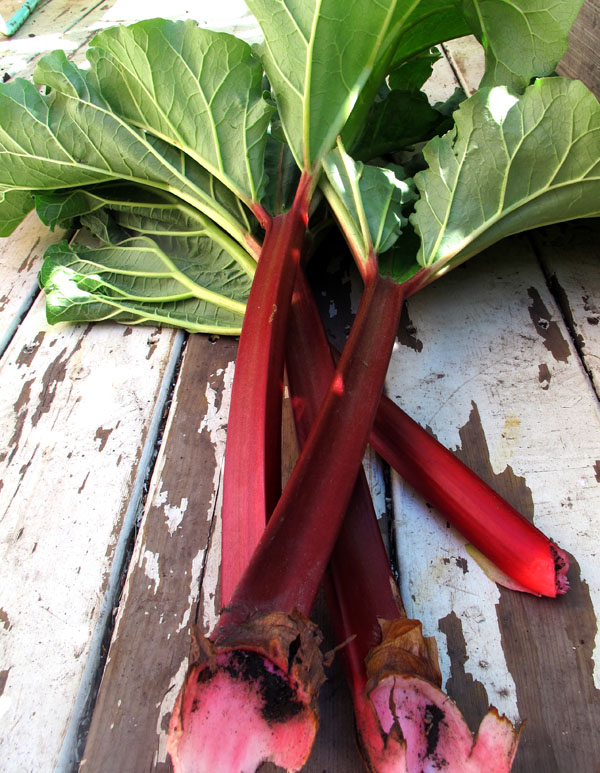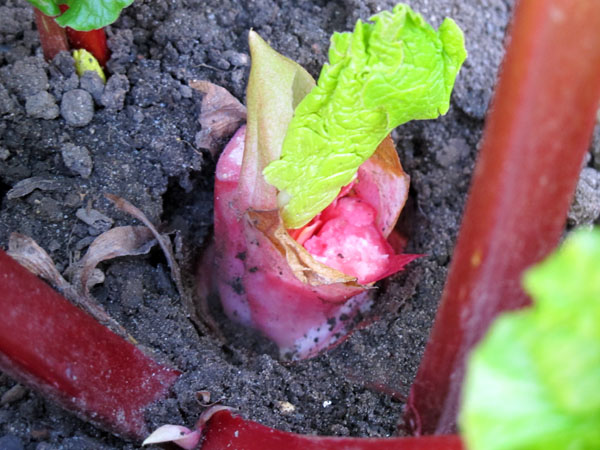 Someone once told me not to pick fresh rhubarb after the end of June -increase in toxicity? So by my books I've about a day or two left to get in all my rhubarb chopping for the year. It freezes well so we'll still have plenty throughout the summer if I have any sudden urges to make my mom's rhubarb cake recipe (click here), which involves a simple cake batter, a package of strawberry jello, and mini marshmallows!