These past few weeks and months we've seen the Hamilton food scene pick up the pace with a rapid fire succession of new restaurant openings. Places like Born & Raised, Berkley North, Fsh & Chp, Hooly Crab, and Nique all opened their doors (not to mention The French –opening soon!).
I had the great pleasure in early spring to attend a sampling of Nique's menu. It was delicious, refreshing and definitely unique. Menu items ranged from cauliflower and poblano hummus with fry-bread, fried plantain tostones with spicy guac, crispy Cambodian calamari, beet fritters topped with greens. For dessert beignets with fresh Devonshire cream and preserves.
It goes without saying that someone who is as passionate about food as Chef Harrison Hennick could only ever make good things. The quality, creativity and flavour of his dishes were all on point despite having limited access to a fully stocked kitchen (he worked on only one cooking range and a deep frier for this particular pop-up menu sampling event). I can only dream of what Chef Hennick might cook up in his new restaurant with fully stocked kitchen and staff –really exciting stuff!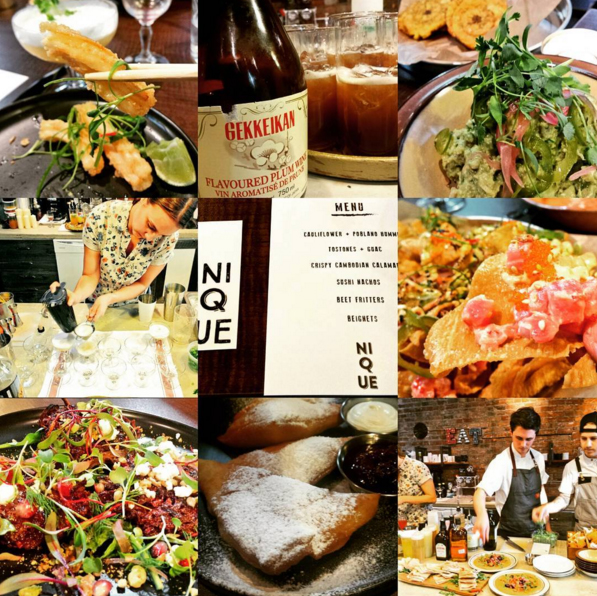 My ultimate favourite sushi nachos; sushi grade tuna on a bed of crisp fried wontons, topped with the perfect combo of tangy spicy flavours and textures to please my palette.
I've heard their two dollar fried chicken on Tuesday is mouthwatering, crispy, and juicy. Not to mention they've got menu items ranging from charcuterie, beef ribs, to burgers, bitter greens and crispy snapper. I will definitely need to try Chef Hennick's spin on the classic Deep and Delicious chocolate cake.
They're open for lunch and dinner but they're also open late. Bring on the cocktails, beers and snacks!
Nique has its official grand opening this Friday (tonight!) on James North. If you haven't been by yet for their sneak peeks and menu samplings from last week's soft opening, then you should most certainly add it to the top of your list of places to check out ASAP.
*Nique Restaurant, 123 James Street North, 905.529.8000, Facebook, Twitter, Insta