The Academy of All Things Awesome and This Must Be The Place are very proud to finally present to you Hamilton Gems map illustrated by Jacqui Oakley!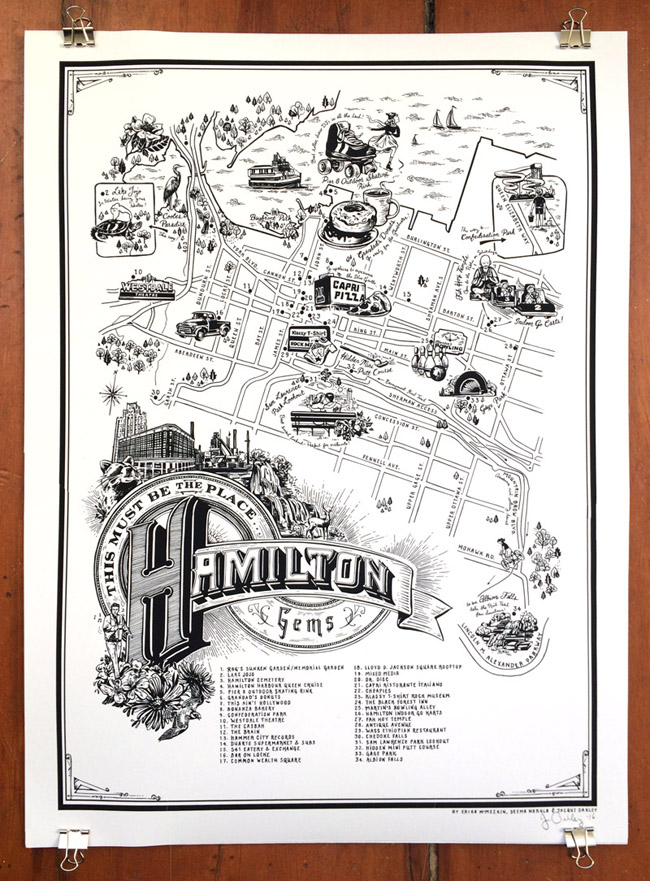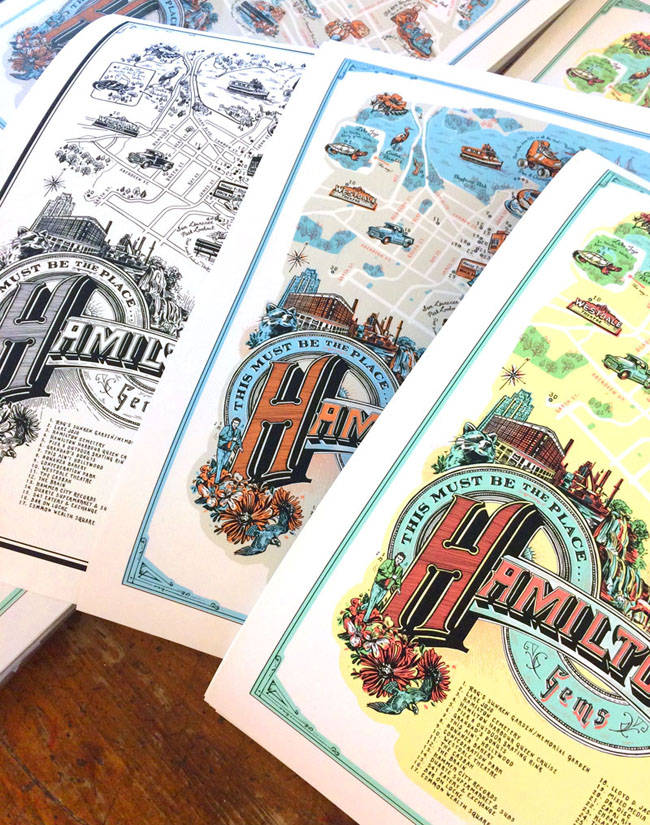 The map features a selection of Hamilton Gems focused in the downtown area with a few destinations outside the core for you to explore. Take note of a little nod to Hamilton legend Jed the Dancing Guy; usually spotted dancing in the streets of downtown Hamilton (in the map he's dancing just to the left of the letter "H").
Aren't they gorgeous! You know you want one hanging on your wall.
This Saturday, November 26th we will be selling them at Stuffed Hamilton from 11am-6pm at Collective Arts Brewery. Parking is free and admission is $5 (free for kids under 12). There'll be 70+ local vendors, coffee by Vintage Coffee Roasters, and awesome tunes by DJ Donna Love Joy to keep you grooving while you shop.
Then on Sunday, November 27th we will be selling them at Handmade Hamilton from 11am-5pm at the Staircase Theatre. Admission is only $2, which will get you access to 32+ amazing vendors like ceramic artist Krystal Speck, Hitokoo (clothing line), and more Hamilton maps by the Jelly Brothers.
For the Stuffed and Handmade Hamilton show we're selling the maps at a special reduced price listed below. Maps are available in two sizes and formats.
20×28″ screen prints $75 black & white, $85 colour (printed by hand at Centre 3 for Print and Media Arts)
12×16″ archival giclée prints $45 colour or black & white (printed by Smokestack Studios)
If you can't make it out to the Stuffed show or Handmade Hamilton, then you can still pick up maps from the lovely folks at Mixed Media (James North), White Elephant (Westdale), Girl on the Wing (King East), Canoe (Locke) and on-line via The Academy of All Things Awesome.
Don't wait long to buy one, especially if it's for a gift for Christmas. We're doing a limited edition print for the holidays and they are already selling fast!
 *Stuffed, Saturday November 26, 11-6, 207 Burlington Street East
*Handmade Hamilton, Sunday November 27, 11-5, 27 Dundurn Street North, Twitter, Facebook, Instagram