I often get emails from people who want to check out Hamilton for a day. They want to know where to go for coffee, to eat, drink, check out some art, vintage, shops and generally get the scoop of all that is abuzz.
A few years ago a task like that wouldn't have taken long. I could've quickly listed off my favourite spots, both old and new. However, now a job like that would take some serious thought, which don't get me wrong is a good thing! I'd have to take inventory of all that has recently opened (for which there is a ton of) and is soon to open (something new on the daily).
So when Expedia.ca approached me a little while back and asked that I do a write up about the Hammer, I took it as an opportunity to give (all those wanting to get in on Hamilton) a quick and dirty one-day-tour of our city. It is by no means comprehensive and there is much room to expand.
For the purpose of this entry I will keep this trek a walking one with the potential start and end points being the train stations; for which Hamilton now has two of (conveniently located at the Southern and Northern tips of James Street).
So you've decided to check out Hamilton…
Starting from James South at the Hamilton GO Centre, my first stop would be at Pinecone Coffee (a short jaunt east to John South) for a morning coffee and a little treat to eat. Sit for a bit and get your bearings on the city. Contrary to what you might geographically be inclined to feel, toward the mountain/escarpment is South, and the lake is North.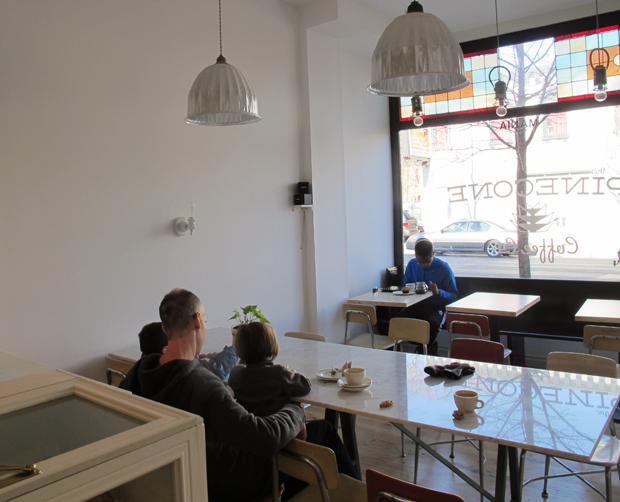 After your first taste of Hamilton's growing coffee/cafe scene head north down John Street. Make note, if you're still in the city for the evening, you might make your way back up this way for buck a shuck oysters, cocktails, and charcuterie (of the meat/cheese or chocolate variety) at Two Black Sheep, tacos and tequila (over 30 kinds listed on their menu) at Mezcal, or pints and pub fare on Augusta Street at local watering holes: The Ship (one of my favourite places for burgers in the city) or The Winking Judge; both of which have extensive lists of craft beer on tap.
Keep your eyes up around John and King to admire some of the architecture and the restoration of a Hamilton classic: The Royal Connaught Hotel.
If the time is right (past noon and not on a Sunday or Monday, when most shops downtown are closed) then head right from John onto King St. East to pop into any or all of these boutiques: Girl On The Wing, MODify Your Closet, Studio 205, The Gifted, Tundra Leather, and JH Gordon Books.
By now you may be in need for a little rest and refuelling for which your next stop should be Cafe Oranje.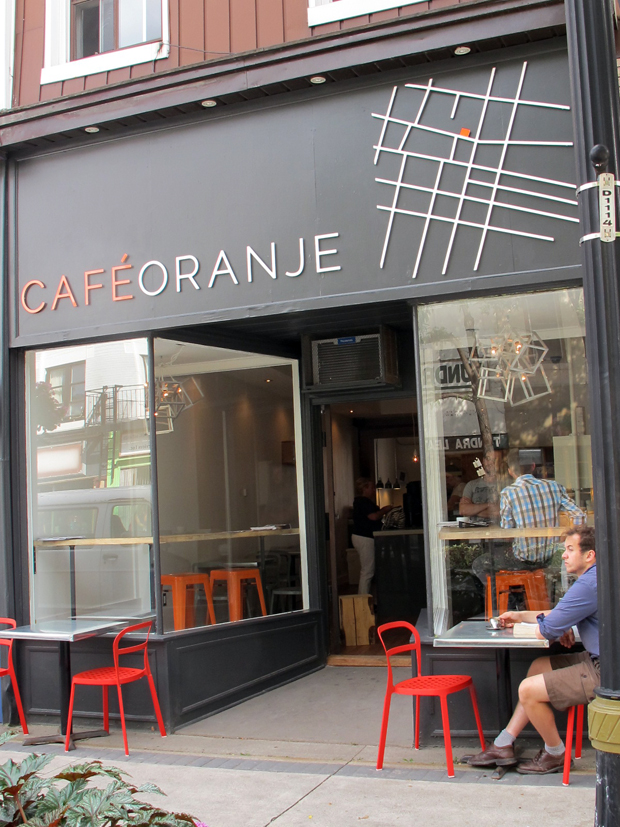 If you've got a hankering for German eats then make a stop at either Denninger's Foods of the World or The Black Forest Inn (both have been in their locations for over 50 years). It should be noted that at the Black Forest Inn (a total Hamilton institution) your goulash and schnitzel will be delivered to you by servers dressed in traditional German dirndl and lederhosen. But of course, if you're not into that, then there's always Staxx's Waffle House for burgers, fried chicken and waffles or Sparkle (a total hidden gem) for Northern Chinese: cumin lamb skewers and dumplings.
Before leaving King East or what some call the International Village, check off your list Out of the Past and Vintage Soul Geek's shops (if vintage is what you're after).
Go west on King and hang a right going North on John; passing by my favourite building in the city -Treble Hall.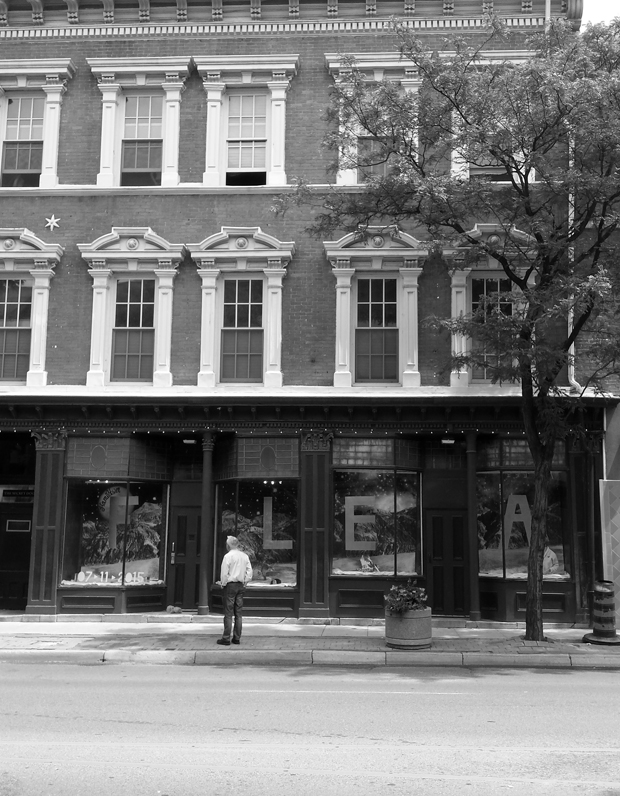 Just before you hit King William check out the latest art exhibit at Nathaniel Hughson Gallery.
Working your way west down King William you'll find the recently opened HAM BRGR boasting some crazy mouth watering burgers, over the top caesars garnished with a mini-slider, and a good selection of craft beer. There's also the Mule for gourmet tacos, tequila, bourbon, and weekend brunch, Made for you by Madeleine bakery (they mill their flour on-site), and Homegrown Hamilton Cafe and coffee roasters amidst many other notable restaurants and establishments.
As you approach James North you'll see another beauty of a building -The Lister Block, which was restored and brought back to life just a few years back. It already seems strange to imagine that when I first moved to Hamilton and laid eyes on Lady Lister, she was all boarded up. There is undoubtedly an architectural renaissance that is starting to take hold in the downtown core.
Tourism Hamilton is on the main floor of the Lister, which is a good stop if looking for additional information on Hamilton. In case you didn't know, Hamilton is known for its nature: waterfalls (over 100 of them), beautiful escarpment trails, waterfront, and Canada's largest botanical garden.
Continuing up James Street North there is no shortage of cool shops, cafes and restaurants.
The Design Annex: Satellite branch of the Art Gallery of Hamilton. Half design furniture store gift shop half gallery event space.
Hawk and Sparrow: A vintage store favourite of mine. One of the first vintage stores to open on James nearly five years ago.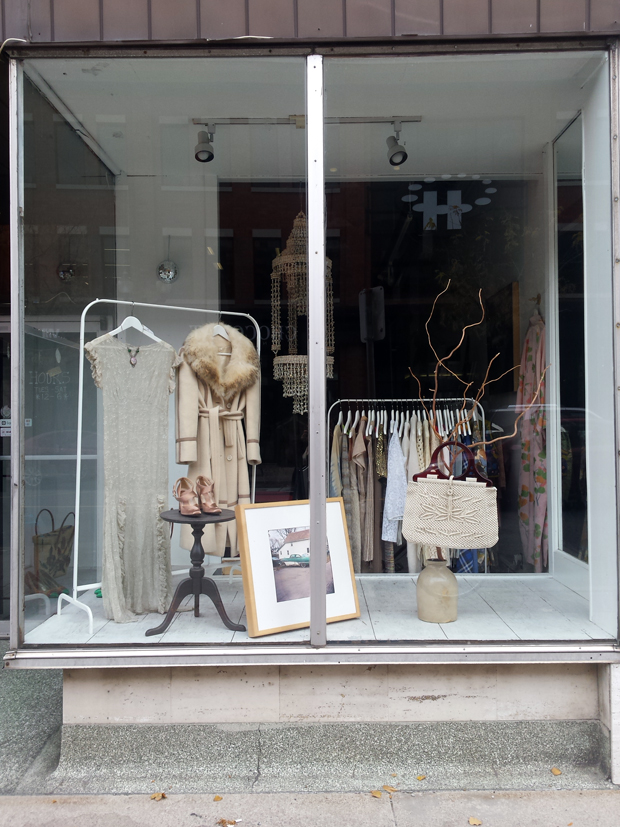 Pretty Gritt: Mix of vintage and new design housewares and gift shop.
Hand Knit Yarn: For all your knitting needs.
White Elephant: Boutique of beautiful and quality designed women's clothing, jewelery and accessories.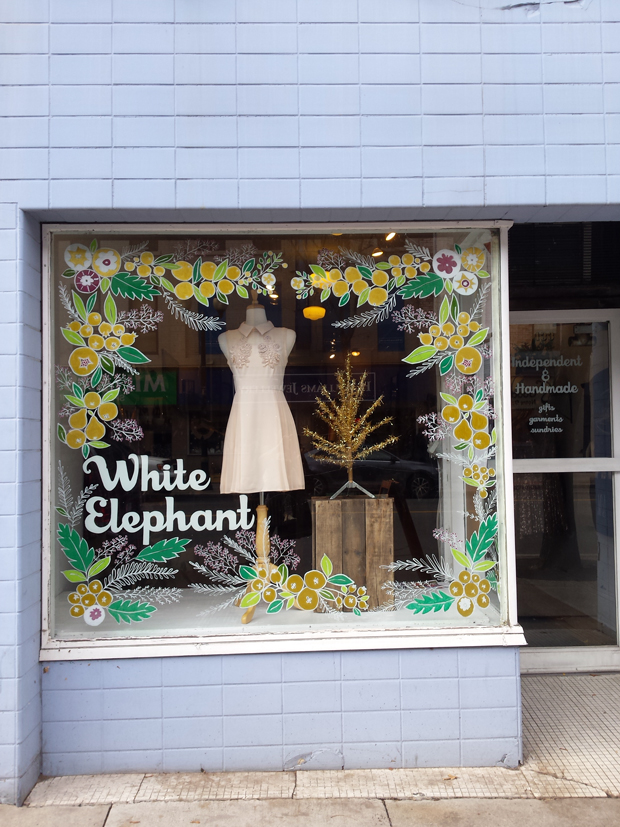 O's Clothes: Men and women's clothing and lifestyle store. Everything from the iconic #HAMont t-shirts to lux Pendleton shawls, Fjalraven bags and jackets, and Chemex coffee paraphernalia.
Chaise Musicale: Great collection of mid century modern furnishings, and the best selection of books, vinyl and art cult movies for rental or purchase.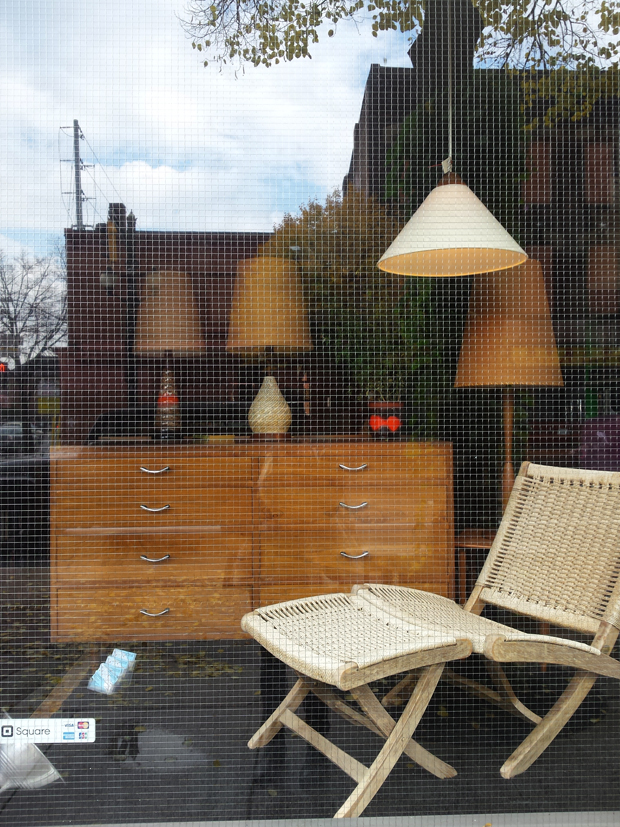 Mixed Media: For every and any Hamilton visit Mixed Media should be a mandatory stop. They're an art supply, stationary, gift shop and they just celebrated their 10th year of business.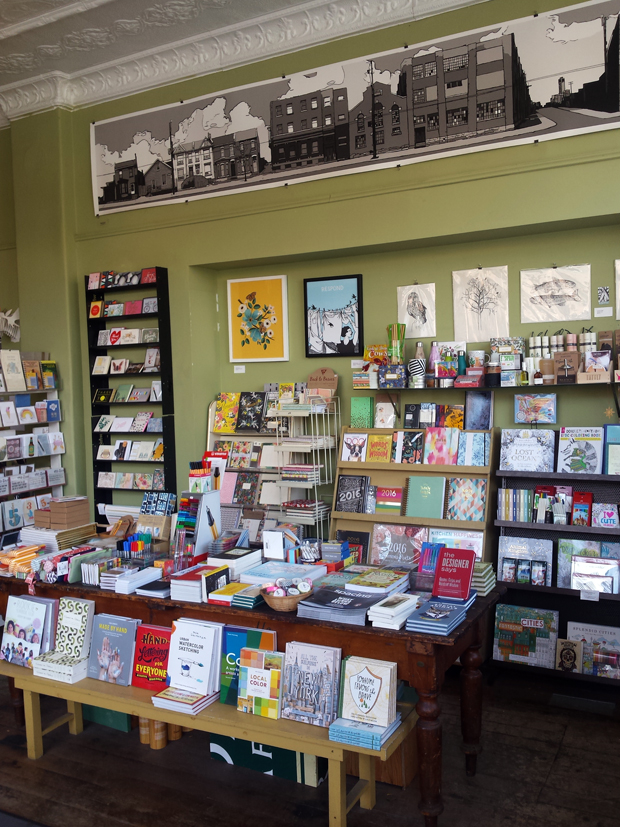 Tucked just east of James on Cannon you can pick up a coffee to go at Smalls. It has become my fail safe spot for a guaranteed ah-mazing coffee. Next to Smalls is The Burnt Tongue, soup joint, which is another one of my favourite places for burgers (plain and simple no fuss classic burger). Or if in the mood for something else, across the way is Pho Dao Bo, which delivers on good broth, bun, and my indulgent summer-time favourite a coconut milkshake.
Two art galleries at this corner worth mentioning are:
Hundred Dollar Gallery: Curated selection of works all priced at $100!
Hamilton Artist Inc: Home to some of my favourite art exhibits in recent years.
New to James North is Hamilton's latest cafe; Saint James. It has a menu that changes up daily with Italian sandwiches, pasta, and cereal bars that rotate through childhood classic cereal flavours like Cap'n Crunch, Lucky Charms, and Fruit Loops. I recommend The Drive-Thru: a piping hot breakfast sandwich (English muffin with egg, sausage, hash-brown, and a spicy mayo). I could eat one every day!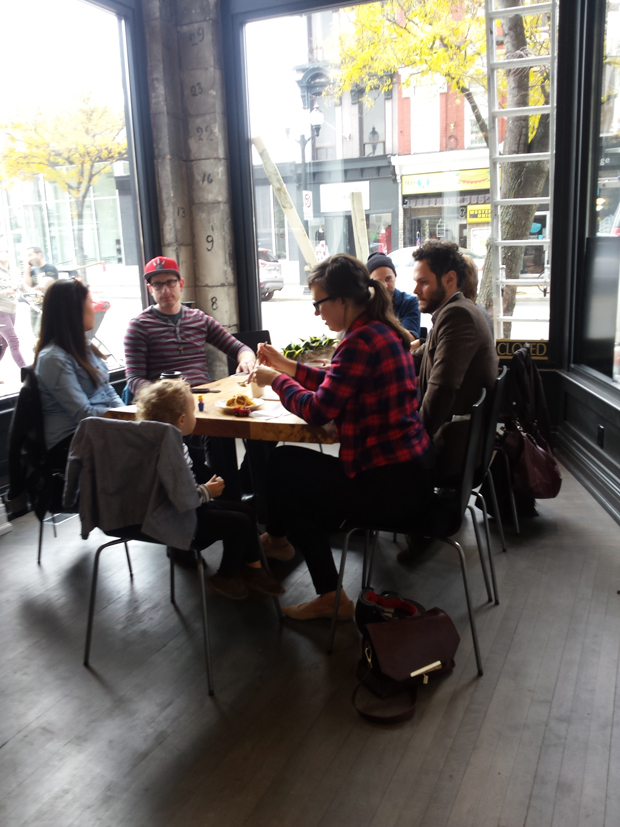 Next to Saint James for great fabrics and creative classes is the lovely Needlework.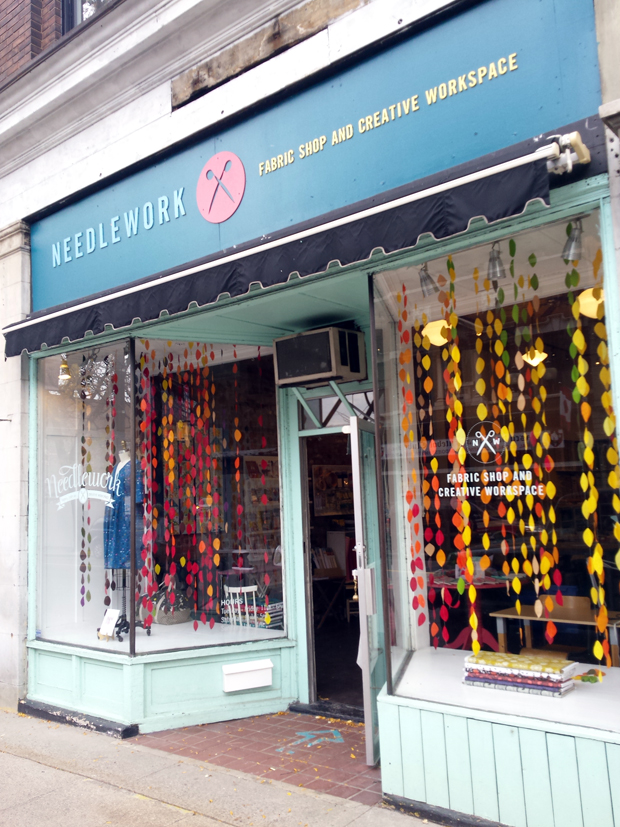 If you've got friends to meet up with or are in need of a place to relax, then hit up Mulberry Coffee shop. In addition to usual cafe spreads, they've also have a good selection of vegan and vegetarian menu options. On sunny days you can sit out on their corner patio soaking up the afternoon sun and the goings on of James Street.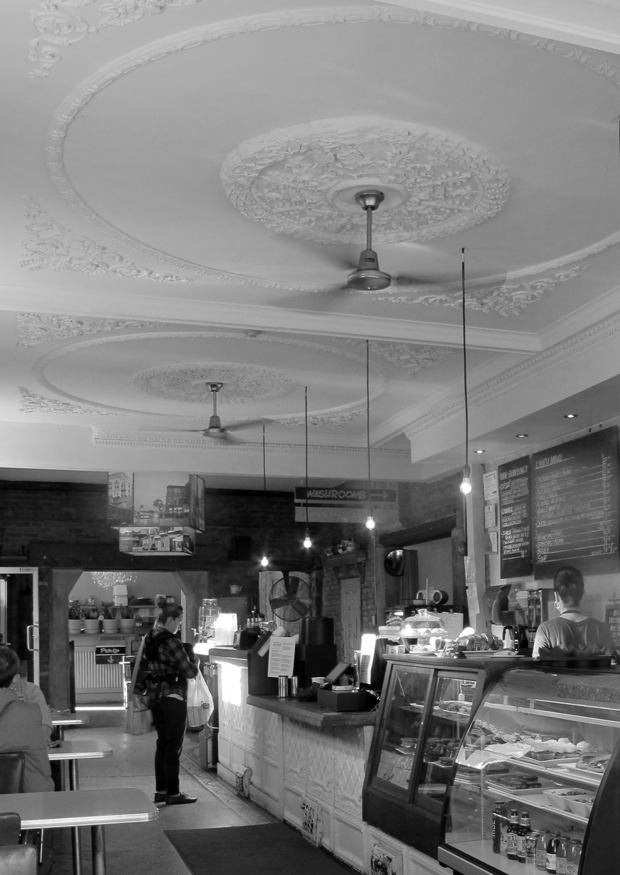 Moving on just a couple doors north is a Hamilton bar I love -The Brain. It has an extensive craft beer selection, great cheeses, hot and cold sandwiches, coffee, pies, and fancy cocktails. It's a perfect hang-out.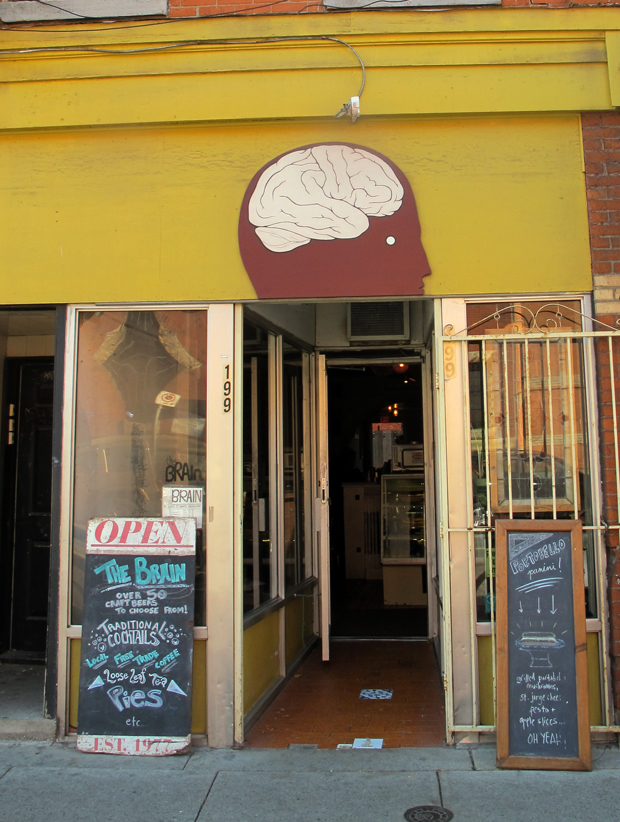 For further bites to eat at this end of James:
Venturas: Portuguese steak and seafood house. Massive seafood platters like the Mariscada: jumbo shrimp, mussels, jumbo clams, white snow crab legs sauted in a garlic and white wine sauce
Ola Bakery: Super delicious classic portuguese sweets and treats.
Knead Pizza: Gourmet pizzas like The Smoked Brisket, or Mango Tango: crispy pork belly, pickled jalapenos and mango. Eat in, take out, full pies or by the slice. Veggie options also available.
Saltlick Smokehouse: Southern cuisine with a menu organized by meat: hog, bovine, poultry, with sides like mac'n cheese, slaw, beans and croquettes. They've recently added weekend brunch: smokehouse style eggs benny.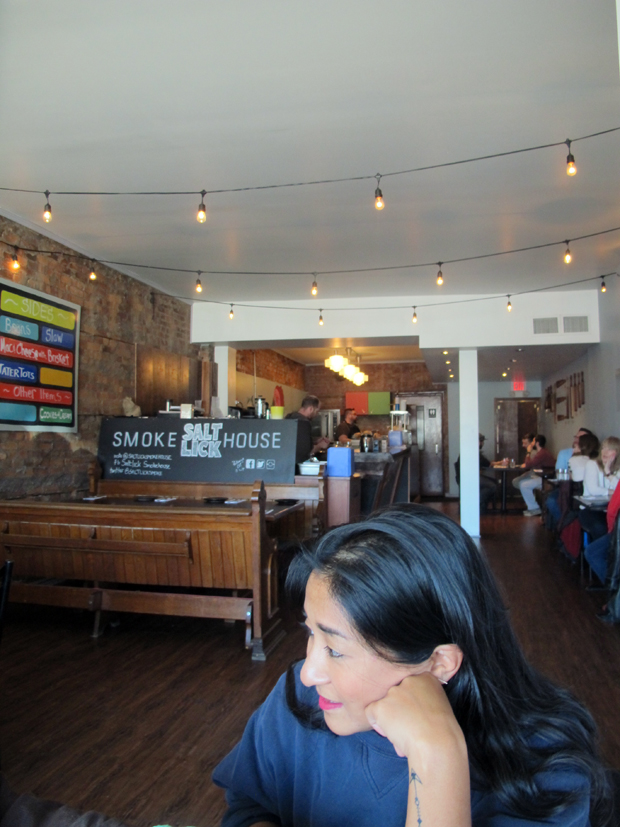 Lakeroad: Fancy, delicious and gorgeous presentation. They run the gambit of dishes from pizza, pasta, to Moroccan hen, flank steak, ribs and pork belly.
Green Smoothie Bar: A dose of healthy that looks and tastes delicious. Green smoothies, vegan lunch bowls, meal-worthy salads, wraps and desserts.
Jack and Lois: An all day and night kind of place. Breakfast, sandwiches, soups, and burgers and I might add a surprisingly large and amazing back patio for hangover caesars and summer time evening beers. My fav The Peter Rowe Breaded Parm Sandwich: Portobello Cap, Eggplant Cutlet, Roasted Red Pepper Caramalized Onions, Asiago with House Marinara on a Baguette.
Butcher and the Vegan: Their mission – serve delicious, local, sustainable and ethical food for every palate and persuasion. Their menu changes according to season but ranges from beet ravioli to duck pizza. They've also got you covered for weekend brunch.
Golden Brown: Located just east of James on Barton is the cutest little Korean sweet and spicy fried chicken take-out and delivery restaurant. Cash only.
Work: Rivals The Brain as my favourite bar hang out. In addition to great hangs, beers, and laid back vibes they also have a really fabulous and unique menu. My favs: banh mi fries and kimchi nachos. They've also got their foot in the ramen door too. Did I mention they also have a comedy night?
More shops and Galleries:
Record Stores: The three in the area are Cheapies, Dr. Disc and Hammer City Records (specializing in Punk, Hard Core, and Metal).
The Hamilton Store: For all your Hamilton heart-throb gift and good needs.
NewOlds: Men, women and kids vintage clothing and accessories.
b Contemporary: A must-see gallery for me on art crawls.
HAVN (Hamilton Audio Visual Node): A place to listen, view, and experience. Always an interesting place for live music and visual art.
You Me Gallery: The oldest art gallery on the block. Owner and artist Bryce Kanbara is a long time veteran of Hamilton's art scene (like since the 70′s).
Workers Arts and Heritage Centre: Hamilton's old Custom House (one of the oldest remaining 'federal' public buildings in Canada) is a museum with curated art exhibitions and programming about the culture and history of the working people.
At this end of James Street North the new West Harbour Go Station is a short two minute walk (west of James). But if you're still looking for a few more notable destinations not necessarily on James Street (but worth checking out) read on!
Going out at Night:
The Baltimore House: Coffee house and pub by day, live venue for bands or club DJ and dancing by night. They also have Karaoke, trivia, open mic nights.
Homegrown Hamilton: Cafe by day, open mic and live music venue at night.
This Ain't Hollywood: Some might call it a dive. It's definitely no frills and it's my favourite band venue in the city.
The Casbah: Bands play here and they've got lots of craft beer.
Yuk Yuks: Comedy club. Cause everybody needs a good laugh.
Serve Ping Pong: In addition to crap loads of ping pong they also have a supremely amazing menu and weekend brunch.
Gameopolis: Walls of games for unlimited board game fun. They've got you covered for snacks, beer, wine and coffee, tea, hot chocolate, and floats!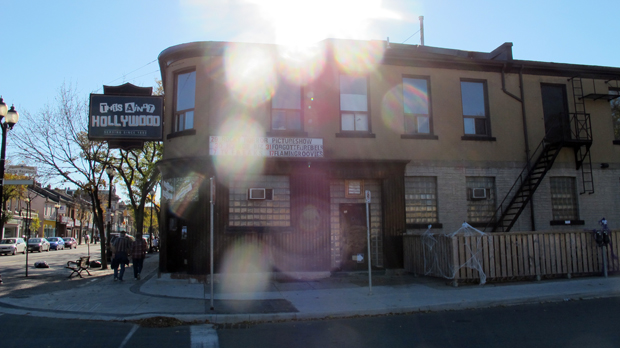 Worth Mentioning:
Hamilton Farmer's Market: Meats, cheeses, local farm produce. Plus, the market has recently upped its game with the opening of Eat Industries Inc's tacos, Pokeh Bar (sashimi grade tuna salmon bowls), Henry Brown's (small batch ice-cream) and Eat Industrie's latest venture a ramen shop. Open Tuesday, Thursday, Friday and Saturday.
Art Gallery of Hamilton: A visit to Hamilton should not forgo a trip to the AGH. This gallery and art institution is probably one of the things I'm most proud of in our city.
Collective Art's Brewery: Hamilton's first large-scale craft brewery has recently made its debut in the city. Expect larger scale events and concerts to be held here in the future.
Art Crawl: During the second Friday of every month galleries, shops, vendors, food trucks and musicians pop up or stay open late along James North from 7-11pm. A great way to get a snapshot view of the city. It can bring a fabulous energy to the core, but can get very busy in good weather.
Supercrawl: An annual festival that promotes the art and indie music scene. Several street blocks close (to cars) for three days as numerous stages, food trucks, stalls/vendors and attractions line the streets. Named Ontario's Tourism Event of the Year.
So Bi: Hamilton's bike share. Great way for getting around the city.
For Further Hamilton Reading:
I Heart Hamilton: Kristin Archer, Hamilton's sweetheart, has been living her motto of "being a tourist in her own city" for the past four years; blogging about restaurants, shops, music and events. If it's about Hamilton, she's blogged about it.
The Hungry Gnome: For all your food related Hamilton blogging. @TheRealChanry gets the scoop on all things new, old and good to eat in the city.
Cut From Steel: BIljana Njegovan's music blog that covers concerts, reviews bands, promotes and showcases the amazing musical talent that comes out of Hamilton.
Rebuild Hamilton: Thomas Allan is a walking historical architectural encyclopedia about all things related to buildings in Hamilton. Super passionate about the city and everything that comes with it.