A the start of early spring another new place on King Street East opened up. It's on the corner of King and Walnut Street right next to its sister store MODify Your Closet.
Around four years ago I remember enthusiastically rushing into MODify Your Closet the day it opened and speaking to owner Melanie McArthur about how happy I was about a vintage and consignment store like hers opening up on what was then a pretty vacant looking King Street.
Since then stores like Girl On the Wing, Vintage Soul Geek, and now Melanie and her business/life partner in crime Vito's latest project… Studio 205. They've all taken up shop on this strip, each helping to transform the vintage and Canadian made retail landscape of King east.
In addition to being a boutique that focuses on local and Canadian made goods, Studio 205 is also a take-out espresso bar serving up barista coffees, specialty teas and my fav Hamilton's original Grandad's Donuts. They also carry delicate treats from local Hamilton organic bakery Made For You By Madeleine to accompany a coffee or tea to go.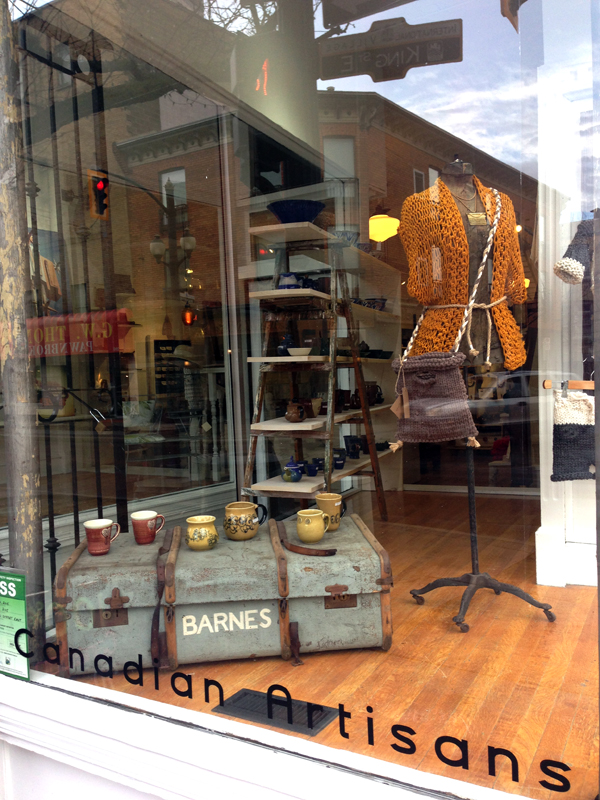 Studio 205 is eclectic in the sense that is sells locally made items from hand painted shoes, to vintage typewriter key cuff-links to hats, necklaces, jewellery, feather hair fascinators, leather bags and knit goods to hand blown glass, pottery, art and fancy hats. Basically a one stop shop gift shop or place where you can find limitless ways to treat yourself to something beautiful, unique and handcrafted.
Besides selling some gorgeous goods made by Canadian artisans, Studio 205 also offers workshops like upcoming flower arranging workshop April 25th from 1-2:30pm by Mum's Garden Floral. There are sure to be many more crafty DIY workshops that will be popping up in the future.
If you're in the neighbourhood you should definitely stop by and check it out all that is happening in this gem of a store.
Oh and by the way… May 10 is the first of the spring/summer series of Village Station Bazaars (a hip artisan flea market, which owner Melanie helped to spearhead -she just doesn't stop)! It's also worth a gander and is just down the street from Studio 205! See my post from last year about it here.
*Studio 205, 205 King St. East, Twitter, Instagram, Facebook, 905.522.2205